Ariane and Shannon qualified in leadership and management by Falklands government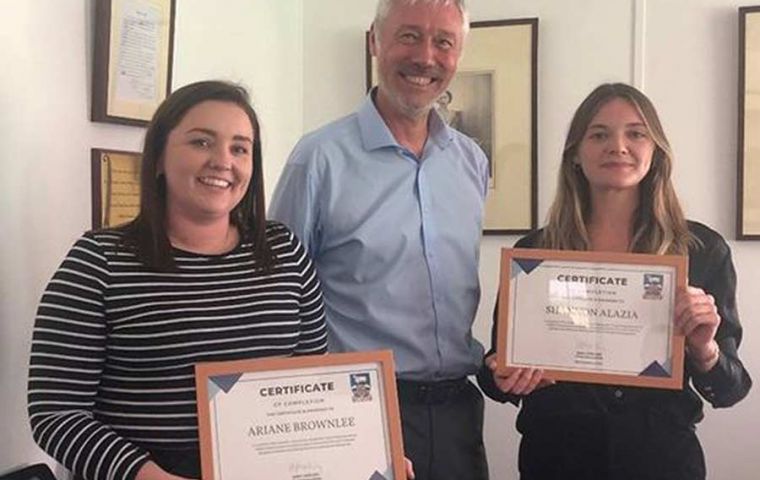 The Management Trainee Program which was re-launched in November 2020 as part of a two-year initiative aimed at identifying possible future leaders of government has now been concluded, and following their appointment as Management Trainees, Shannon Alazia and Ariane Brownlee have now successfully completed the program.
As well as achieving a Level 5 CMI accredited qualification in Leadership and Management, they have supported and lead on a number of projects, including applying for and achieving Stanley's City Status, contribute towards the drive of health and wellbeing initiatives across FIG, and supporting the management of the minefield fence removal project, hugely contributing to not only the delivery of the Islands Plan, but the continued success of the Falkland Islands Government.
In addition to their formal qualification, Ariane and Shannon were presented with a Certificate of Completion by the Chief Executive, Andy Keeling during the Corporate Management Team meeting on Monday 13 February.
Reflecting on their experiences Ariane and Shannon commented: "We have both thoroughly enjoyed the program and value the experience that has been gained from our exposure in FIG. We would encourage anyone to apply for the program; you will be surprised as to what opportunities are out there!"
Chief Executive, Andy Keeling added: "I congratulate Ariane and Shannon on completing the Management Trainee program. They have been an asset to the FIG team and have led on some incredible projects. I wish Shannon the best of luck with her overseas adventure and I am delighted that Ariane has chosen to remain part of FIG."
Following the success of this program, FIG is delighted to confirm that it will run for a second consecutive cohort, offering two Management Trainees a fantastic opportunity to gain valuable insight and exposure from hands on training, receiving a competitive salary whilst working towards an internationally accredited formal qualification. More information on this will be released when the posts are advertised.