Penguin fossil trails shed light on continent's separation from Antarctica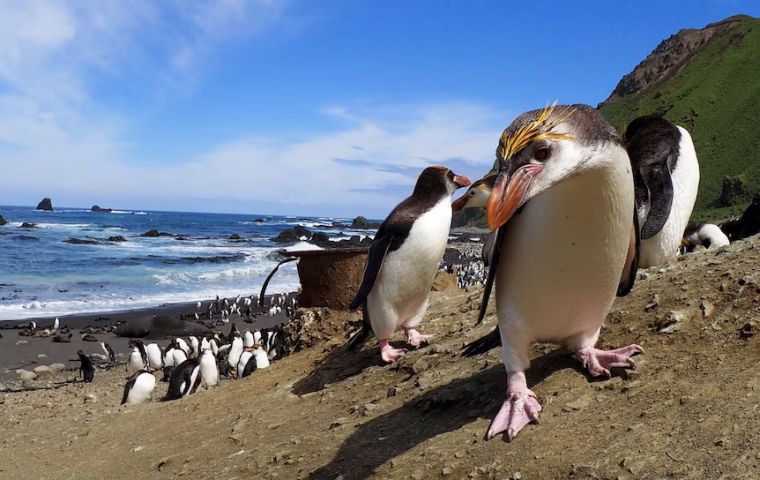 Researchers from Argentina's National Council for Scientific and Technical Research (CONICET) came up with penguin fossil indicators of a historical separation between Antarctica and South America, it was reported Wednesday.
The analysis of penguin bone specimens that lived more than 30 million years ago yielded chemical elements derived from the movement of the tectonic plates by which the division of the continents took place, it was explained.
The event studied was the separation of the Antarctic Peninsula from South America and the consequent opening of what was called the Drake Passage, a process that took place around 35 million years ago, according to a press release.
"As the Antarctic Peninsula has a very rich and continuous fossil record of penguins from the beginning of the Cenozoic, approximately 60 million years ago until about 34 million years ago, that is, almost the entire geological period known as Paleogene, we decided to analyze if there was any indication of this event in their fossils, and we found that there was," the study's lead author Leandro Pérez, a Conicet researcher at the Natural Sciences School and Museum of the National University of La Plata (UNLP) explained.
In his assessment, the geochemical changes caused by the movement of land could be reflected in the phosphate that makes up the bones of these birds, and, in order to prove it, samples were collected in campaigns of the Argentine Antarctic Institute (IAA) on Marambio Island.
The records used for the analysis belong to penguins of different species that inhabited the White Continent throughout the Paleogene, added to those of a current specimen in order to make comparisons.
Regarding the characteristics and living conditions of the animals, Pérez pointed out that "there are no major changes throughout geological history."
But he also pointed out that "the geochemical signal" was detected in specimens from the continental coast, which featured elements from the environment that may indicate nearby volcanic activity and were added into the bones during life, during their development, but also through fractures and porosities in the fossilization process.
"The control sample, which is that of the current penguin, does not have this signal, and this is because there is no volcanic activity presently, as there was at the time of the separation of Antarctica and South America," the researcher said. In addition to that, low amounts of europium were detected in fossils dated at the end of the Eocene, between 38 and 34 million years old. Europium (Eu) is directly related to an increase in volcanic activity possibly associated with tectonic plate movements, which in this case produced the separation of both continental blocks.
The experts propose, as a next step, to look for the same geochemical signals in rocks or fossils from the southernmost part of Argentina and Chile, precisely the portions of land that were once connected to Antarctica.