Cleverly insists: the Falklands are British
Friday, March 3rd 2023 - 09:50 UTC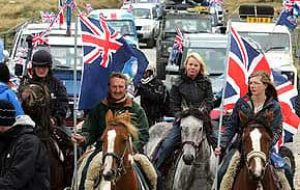 British Foreign Secretary James Cleverly wrote on Twitter that the Falkland "islanders have the right to decide their own future: they have chosen to remain an autonomous British Overseas Territory," and therefore "the Falkland Islands are British."
Cleverly made those remarks after he was told by his Argentine colleague Santiago Cafiero that the South American country was pulling out from the Foradori-Duncan Treaty. (Read also: https://en.mercopress.com/2023/03/02/argentina-withdraws-from-foradori-duncan-treaty ).
"The Falkland Islands are British," insisted Cleverly, who had met with Cafiero in New Delhi.
Meanwhile, UK Ambassador in Buenos Aires Kirsty Hayes regretted the Foreign Ministry's decision. "In 2016 Argentina and the UK reached a historic agreement that, among other things, set in motion the process of identifying the fallen on the islands after more than 30 years. We regret that the Argentine government has now decided to abandon this important agreement," she wrote on social media.
Argentina's Secretary of Malvinas, Antarctica, and South Atlantic Guillermo Carmona replied that the identification process did not begin during the government of Mauricio Macri. "Dear Ambassador @AmbKirstyHayes it is regrettable that you try to pass off the identification process of fallen from #Malvinas as part of a Joint Communiqué. It is an obligation of international humanitarian law enshrined by an agreement that involved the UK, ARG, and ICRC," the Argentine official argued.
Through a thread of tweets, he pointed out: "It is definitely not true that this process began in 2016 and even less so with Foradori-Duncan. That kind of approach reveals the unwillingness of your government to comply with international law. That your approach is in the framework of humanitarian obligations is, in addition to regrettable, unacceptable.
"We reiterate the willingness of the Argentine government to resume negotiations on the sovereignty issue. Please, do not make the humanitarian issue a bargaining chip for other interests that dehumanize the projects of identification of the fallen," Carmona stressed.