Oceans Conference in Panama results in 341 commitments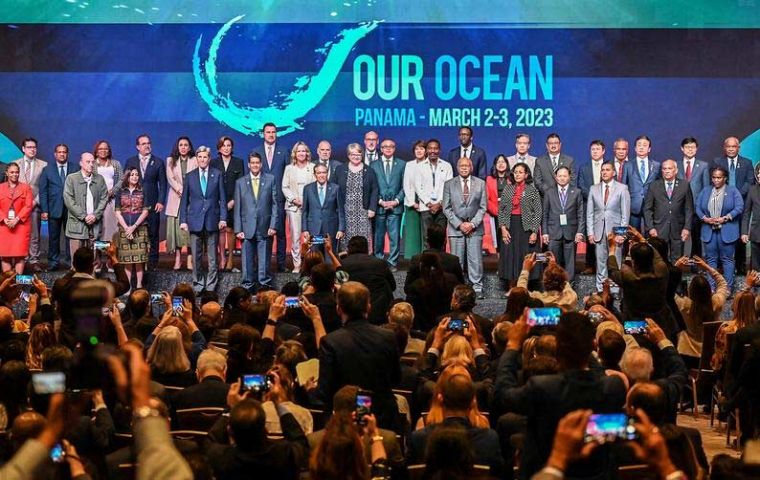 Attendees at the Oceans Conference in Panama agreed on 341 commitments to protect the world's seas from an environmental viewpoint. The new steps to look after the marine ecosystem, and combat pollution, illegal fishing, and other threats will include disbursements of around US$ 19.7 billion.
Panama's Foreign Minister Janaina Tewaney announced in her closing speech with US Presidential Climate Envoy John Kerry as the main guest.
Most of the funding will be provided as follows: US$ 865 million from the European Union (EU) and US$6 billion from the United States. The next 'Our Ocean' conference will take place in Greece in 2024.
During the two-day event in Panama, some 600 dignitaries from governments, NGOs, companies, and international organizations focused on the negotiations at the UN in New York on an agreement to protect the ocean. Delegates did not adopt agreements or take votes but announced voluntary "commitments" to protect the ocean.
Kerry pledged US$ 6 billion from the United States to fight climate change and protect the oceans. These financial resources will be directed to support efforts to promote sustainable fisheries and maritime security as well as to counteract growing threats such as ocean pollution and climate change.
The former presidential candidate said at the end of the conference in an interview with foreign correspondents that Washington's commitment is almost twice as sizeable as what was announced at the previous conference in Palau. He said this was due in part to the inflation reduction law passed in his country, which made it possible to funnel significant funds to the climate crisis.
"We want a bigger impact" and "support initiatives in the region" such as the East Pacific Intertropical Marine Area that includes Ecuador, Colombia, Panama, and Costa Rica. The area has been considered since its creation a good example of cooperation and sustainable management," Kerry explained.
"Time and again I have said that the climate crisis and the ocean crisis are the same thing," he also told a panel. "They come from the relentless emissions from burning fossil fuels to produce electricity, power our vehicles, and light our buildings," he said.
The governments of Panama and France also expressed their intention to jointly explore measures to mitigate the damage to biodiversity being caused by the increasing passage of migrants through the forested Darien province bordering Colombia. Panama raised the environmental damage being caused by the irregular transit of migrants through the Darien jungle in their attempt to reach the United States. In 2022, more than 240,000 displaced people crossed the Darien jungle.
These migrants "cause erosive damage and sedimentation," Panama's Environment Minister Milciades Concepción explained. "In addition to a large amount of rain, ditches are opened, the land goes into the rivers and that contaminated material ends up in the ocean waters," she added.