Lula gets call from King Charles III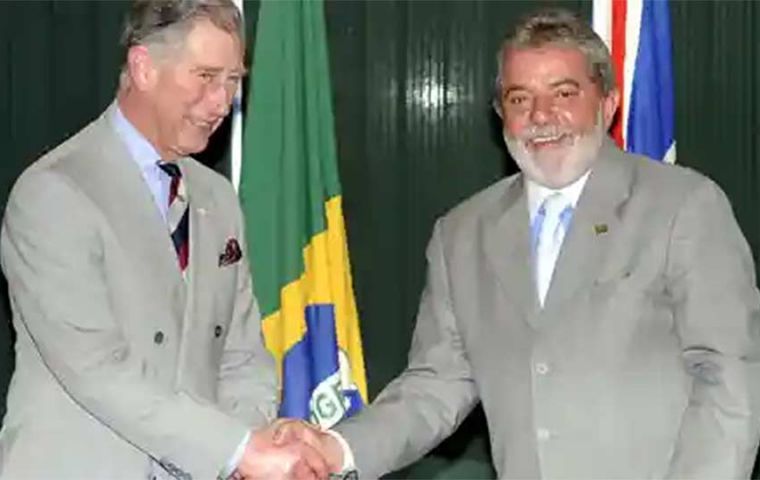 Brazilian President Luiz Inácio Lula Da Silva Monday held a telephone conversation with King Charles III to discuss environmental issues and bilateral ties, Agencia Brasil reported. The call took place around 3:30 pm Brazilian time and was included in the agenda released by the Planalto Palace.
"I have just talked on the phone with King Charles III of the United Kingdom. We talked about the desire to deepen partnerships and discussions between our countries on the climate issue and environmental protection," said Lula on Twitter. The British king is known for having, over the past decades, acted in defense of environmental causes.
Charles, 74, became king automatically on September 8 last year, following the death of his mother, then Queen Elizabeth II. Charles is to be crowned in May this year. Lula is yet to announce whether he will be attending the event to which he was invited by the monarch during the call, according to Brazilian media. One of the most solemn moments of British royalty, Charles' coronation is scheduled for May 6 at Westminster Abbey in London.
Lula and Charles had met in 2009 in Brasilia when the then-Prince of Wales visited the Planalto Palace.
According to a Brazilian Presidency statement, it was King Charles III who initiated the call. "President Lula thanked King Charles for his congratulations for the victory in the elections and for the positive comments regarding Brazil's role in the multilateral agenda on climate change and sustainable development," the communiqué went on.
"President Lula also emphasized the fluidity of the bilateral agenda in the areas of trade and investment, cultural exchange, and science and technology, highlighting, among other issues, the cooperation between Fiocruz and the University of Oxford in the production of AstraZeneca's Covid-19 vaccine," the document highlighted.