Uruguay generates certainty for Argentine migrants, Lacalle says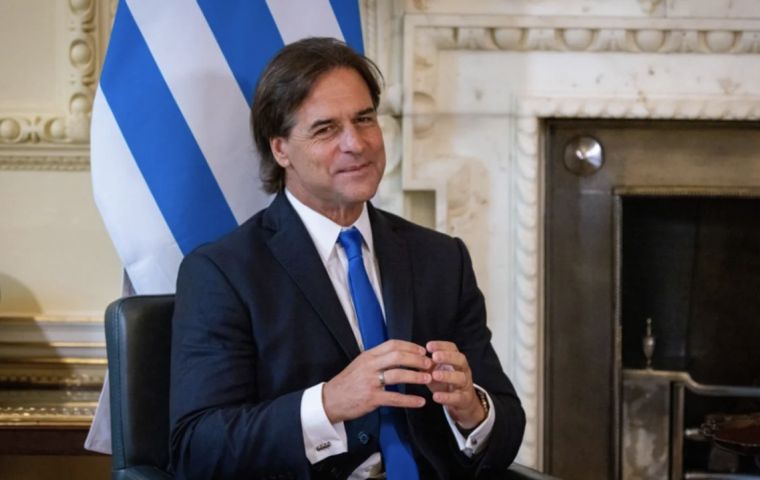 Uruguayan President Luis Lacalle Pou Tuesday explained that many Argentines had decided to migrate and settle "across the pond" because his country was one that "generates certainty."
In addition to that, Uruguay has a degree of ambition not found in other Mercosur countries, like the case of the planned Free Trade Agreement with China would show: "Uruguay wants the whole Mercosur to move forward, but there is not much will, each country has its interests, there is no urgent will to move forward in an agreement with other countries, but Uruguay has it."
Asked about the FTA between China and Uruguay, Lacalle said "we are ready to sign tomorrow; There is legitimate pressure from Mercosur's neighbors not to move forward. We are initiating the negotiation of the FTA with China, we are talking with Türkiye, and last year we applied to join the Trans-Pacific treaty. These are the three fundamental axes of foreign policy in terms of trade agreements," Lacalle explained.
"We have always been very clear about what Uruguay needed. Nobody can say 'I'm surprised by Uruguay's attitude'," he also pointed out. "We belong to Mercosur, we have no interest in cutting ourselves off."
Lacalle insisted Uruguay had its doors open for foreigners and underlined that all Argentines who had decided to migrate were happy about their choice. Uruguay "is a country with open doors for people who want to develop, live in peace and tranquility," with "mechanisms of attraction in residence and investments," he also explained.
"Everyone at some point in our lives, when we become adults, we want to plan for the medium and long term, especially when you have a family, it is something inherent to human beings, and Uruguay is a country that gives confidence," Lacalle told Buenos Aires' Radio Mitre.
The President also pointed out that in his country, "taxes were lowered for workers, the lower middle class and those who do not receive State assistance, for small and medium-sized companies, including single-taxpayers, which will relieve people's pockets and create a virtuous circle in the neighborhoods where they live."
Lacalle Pou said that such a measure was part of "an electoral commitment", which was "not assumed unconsciously." The head of state also recalled that at the height of the pandemic "there was a three-month tax on high public salaries" including his own and that "nobody complained" because people understood "it was a moment to make a solidarity push."
The President also underlined that the growth target for 2022 was 3.8%, "but we reached 5%."