Scioli asks Brazil to bring down barriers and even up the trade balance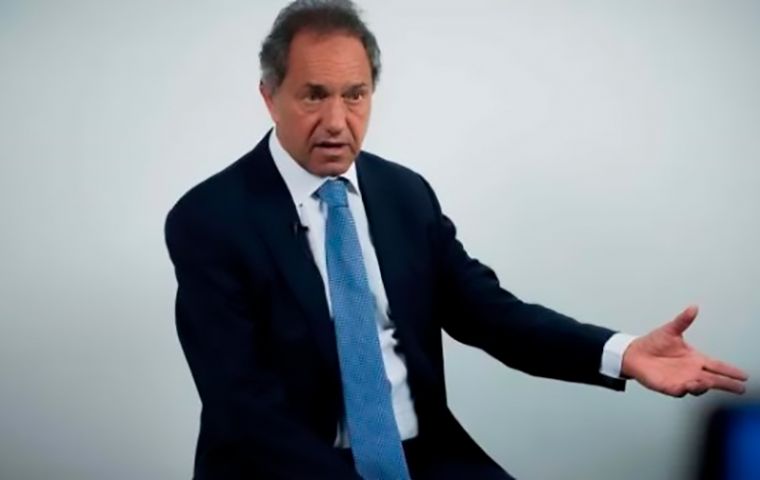 Buenos Aires' Ambassador to Brazil Daniel Scioli Thursday asked the local administration of President Luiz Inácio Lula Da Silva to even up the trade balance between the two countries because it has been negative from Argentina's side for the past two decades.
Scioli insisted that between 2004 and 2022 the accumulated deficit in the trade of goods amounted to more than U$S 52 billion and that, in the bilateral balance of services, only between 2015 to 2021, a deficit of more than U$S 6 billion was recorded.
In this scenario, Scioli urged Brazilian authorities to remove the barriers that prevent the deployment of Argentine goods and services in the Brazilian market, with a focus on non-tariff barriers affecting Argentine wine and impacting the export of grape must in bulk for non-wine uses and the unfeasibility of registering Argentine agrochemicals in Brazil. Scioli also brought up the case of digital products.
The Argentine ambassador also highlighted the restrictions stemming from a requirement to describe the chemical composition of cosmetic products in Portuguese, in addition to difficulties in the registration of medical products, which takes over two years, while tests performed in Argentina are not deemed valid. Scioli also underlined that Brazilian authorities usually imposed hefty fined fines due to formal errors in the certificates of origin of Argentine exports, among other hindrances to more fluid commerce.
Scioli also asked Brazilian authorities to speed up the financing scheme involving the Néstor Kirchner Gas Pipeline (GNK) among other funding issues to be solved.
Argentina needs to boost trade with the region's largest economy, one that created 83,297 formal jobs (1,874,226 new hires minus 1,790,929 layoffs) in January alone, a 50% yoy drop.
Labor Minister Luiz Marinho said the high interest rates set
by the Central Bank to control inflation were a cause for the setback. The Labor Ministry also said the average income wage was R$ 2,012.76 (about US$392) in January, 4.62 % better than in December 2022.