HMS Protector says "Farewell, Falklands"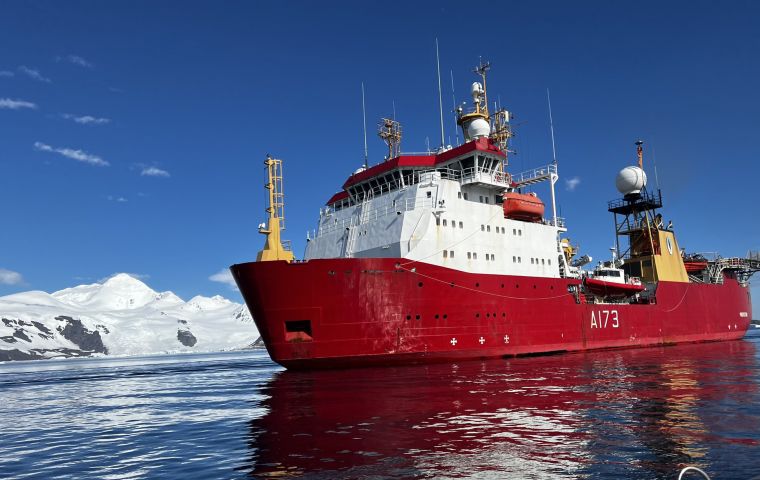 The Royal Navy's only ice patrol HMS Protector has left the Falkland Islands on her way back to Plymouth after four of Antarctic work. It will be a 6,000-mile journey for maintenance and training after completing her season last month safeguarding birdlife and laying the groundwork for further research in the years to come protecting wildlife, safeguarding birdlife, and leaving behind special markers.
The Protector is on a five-year mission, splitting her time between the hemispheres – from boreal summers venturing into the Arctic to austral summers working in her more traditional realm of the Antarctic Peninsula. Protector, playfully nicknamed the Royal Navy's 'Swiss army knife' due to her red and yellow scheme, spends four to six weeks at a time – known as a work period – conducting survey work to update charts, working with British and international scientists delivering supplies, supporting research, moving people and equipment around, as well as collecting scientific data.
In December 2022, the crew of HMS Protector rescued the staff of an isolated scientific base on the island of Port Lockroy after they were buried under the snow. Protector's marine engineers used traditional naval damage control methods with wooden stakes and blocks to stabilize the structure.
"Farewell Falklands! After 4 months of working in the Antarctic, HMS PROTECTOR has sailed from the Falkland Islands for a 6000 mile journey back to the UK for maintenance and training, before she returns to Polar waters later in the year," the icebreaker published on her Twitter account (@hmsprotector) on March 9.

(Source: www.forces.net)