Argentine Muslim woman to collect damages after burkini ban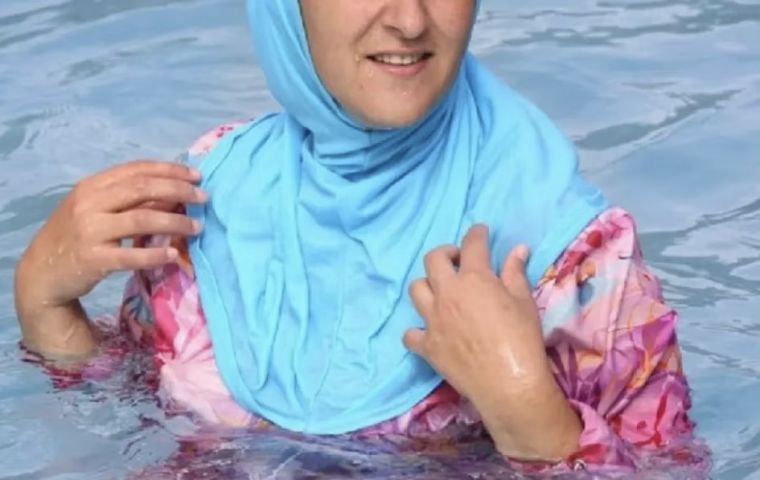 A judge in the Argentine province of Mendoza sentenced a hotel to pay AR$ 400,000 (around US$ 1,070 at the unofficial exchange rate) in damages to a young Muslim woman who was not allowed in 2017 to use the facility's swimming pools wearing a burkini in 2017, it was reported this week.
Judge Norma Laciar de Lúquez found that Jazmín Azul Jafella, who was 21 years old at the time of the events, should have not been prevented from bathing in the Termalia Hotel and Spa pool in Cacheuta for wearing clothing in accordance with her religious beliefs.
The National Institute on Discrimination (Inadi) had also issued an opinion favorable to Jafella's view, but even then the hotel refused to review its policies. The hotel staff argued that as per their dress code, women should wear bikinis or one-piece tights to access the swimming pool area. In October 2018, another woman complained she had been banned from wearing swim shorts and forced to wear a bikini.
"It is clear that the right to admission cannot be imposed over the right to religious freedom," Judge Laciar de Lúquez found. She also noted that the use of burkini "is proper to Muslim women, but not to men who profess that religion" and for that reason, "there is a double stigmatization."
Jafella was discriminated against "not only for professing the Muslim religion, with the consequent externalization of that belief through various practices but, in turn, for being a woman and therefore adhering to the habits, customs, and premises that the practice of religion requires because of her gender," the magistrate also wrote.
Termalia SA will now have to pay her AR$ 400,000 plus interest, in addition to all the legal expenses from the trial.
"The judgment states that it was a case of discrimination. The result of this resolution seems to me a very important advance," Jafella said in a radio interview.
"Because my body is not seen, it is not appraised. My beauty has been removed from the sphere of what can be discussed: it seeks to avoid objectification, that our body is judged according to beauty stereotypes," she explained about wearing a burkini.
The burkini is a swimsuit that covers almost the entire body, from the ankle to the head, leaving only the hands, feet, and part of the face uncovered. Burkini is a portmanteau word resulting from "burqa" (the veil worn by women in Islamic countries), and "bikini."