Falklands, Chinese jet fighters and the pro Beijing lobby in Argentine Defense and Diplomacy
Thursday, March 16th 2023 - 07:02 UTC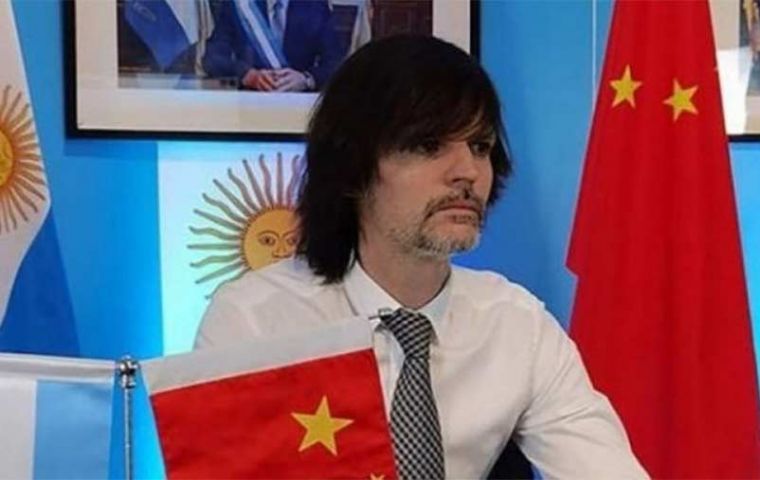 The Argentine Embassy in China said that Buenos Aires is considering procuring the JF-17 aircraft, with Chinese analysts saying on Wednesday that the fighter jet jointly developed by China and Pakistan is the best choice for Argentina in terms of performance and availability.
Argentine Ambassador to China Sabino Vaca Narvaja held a work meeting with Argentine Defense Minister Jorge Taiana and his team in Buenos Aires to promote cooperation with China in the field of national defense, the embassy said in a social media post on Weibo this week.
During the Airshow China 2022 held in Zhuhai, South China's Guangdong Province, Narvaja spoke with representatives from the China National Aero-Technology International Engineering Corp about the possibility of Argentina procuring the third-generation JF-17 aircraft jointly developed by China and the Pakistan Air Force, the embassy said.
Other defense cooperation with China includes the possible procurement of 8x8 armored vehicles from Chinese arms firm NORINCO, according to the post.
Fu Qianshao, a Chinese military aviation expert, said on Wednesday that Argentina has long been seeking to procure new fighter jets to replace its aging and shrinking warplane fleet, but because of the Falklands/Malvinas Islands, dispute, UK has blocked Argentina's aircraft procurement attempts on the international market.
The UK can lobby Western countries not to sell through diplomatic means, and it can also deter countries like South Korea and India, because their fighter jets use UK parts, including ejection seats, (Baker manufacturer) Fu said.
China's position on the issue of the Falklands/Malvinas dispute is consistent, and China firmly supports Argentina's legitimate claim to exercise full sovereignty over the Islands, the Chinese Foreign Ministry and the Chinese embassy in London stated last year. That is why the JF-17 is the most available fighter jet to Argentina, Fu said.
According to public information, the JF-17 has developed into three generations, often referred to as Block 1, Block 2 and Block 3.
Block 3 is equipped with very advanced systems including an active electronically scanned array (AESA) radar, a combination of China's top beyond-visual-range and short-range missiles, as well as avionics and flight control systems. The previous blocks are less costly but still perform well, analysts said.
But any deal depends on Argentina's decision, Fu said. Particularly since the US is also advancing the possibility of supplying Argentina with F16s, one of the US Air Force's most versatile fighter jets.
However, ambassador Vaca Narvaja, a very much pro-China admirer is not a character to be taken lightly. He happens to be the uncle of Cristina Fernandez's granddaughter, that is the child of her daughter Florencia.