Curfew imposed in Miami Beach after fatal shootings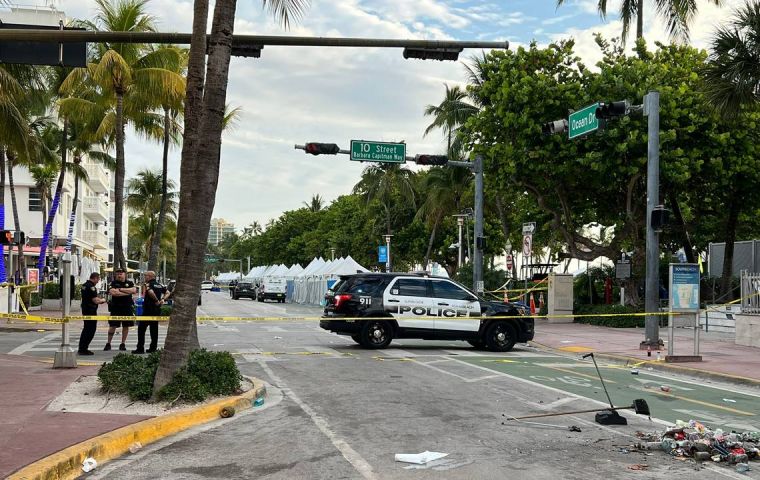 Miami Beach authorities declared a state of emergency and imposed a curfew after two nights of Spring Break shootings that left two dead and two wounded, it was reported.
The curfew, effective midnight on Sunday until 6 am on Monday, was imposed "in response to the two shootings and the excessively large and unruly crowds, and to reduce dangerous and illegal behavior," the mayor's office said in a statement.
Miami Beach Administrator Alina Hudak also plans to impose a new curfew in the tourist neighborhood of South Beach between March 23 and March 26, pending City Council approval.
A City Council release said the two separate shootings Friday night and early Sunday that left two people dead and "excessively large and unruly crowds" led to the decision. The city commission plans a meeting Monday to discuss potential further restrictions.
Miami Beach Mayor Dan Gelber said Sunday that crowds and firearms have "created a peril that cannot go unchecked."
"We don't ask for spring break in our city. We don't want spring break in our city. It's too rowdy, it's too much disorder and it's too difficult to police," Gelber said.
The latest shooting took place around 3.30 am Sunday. A male victim was shot and died later at a hospital. In the Friday night shooting, another male victim was killed, with another seriously injured.
Under the curfew, people must leave businesses before midnight, although hotels can operate later only in service to their guests. The city release said restaurants can stay open only for delivery and the curfew shall not apply to residents, people going to and from work, emergency services, and hotel guests.
A state of emergency and a curfew were also decreed last year during Spring Break after at least five people were wounded by firearms. In 2021, one person died and over 1,000 were arrested with up to a hundred firearms seized. Back then a curfew was also imposed.