Xi Jinping and Putin strengthen ties in Moscow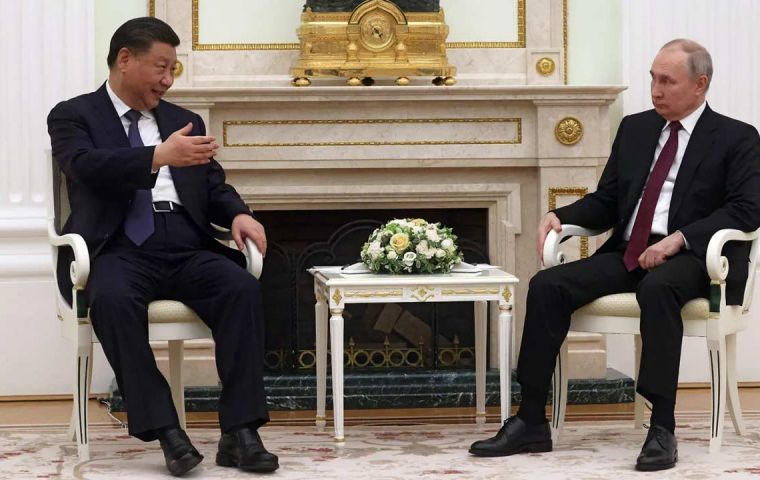 Russian President Vladimir Putin and his Chinese counterpart Xi Jinping held an informal meeting Monday in Moscow. The Chinese leader is on a state visit.
"China has established a very effective system of economic and state development. It is much more efficient than in other countries," Putin told his guest in a speech. The Asian country follows "the principles of justice and the fundamental principles of international law," he added.
After reviewing Beijing's peace plan for the Ukraine crisis, Putin noted that "Russia is always open to the process of talks and respects the Chinese plan."
Xi Jinping called Putin his "dear friend" and stressed it was "a pleasure" to visit Moscow. He stressed that China and Russia were the largest neighboring countries, as well as "partners in comprehensive strategic cooperation," due to which there must be "a close relationship" between both nations.
"You always treat us positively, support us, we feel it, we are grateful to you," Xi told Putin while adding both countries have "many of the same or similar goals in future aspirations."
According to Xi, Russia has made significant achievements in recent years. He stressed that within the framework of their international strategic cooperation, Beijing and Moscow "should, on the one hand, achieve the goal of ensuring justice and equality in the world, and on the other hand, should achieve the development of prosperity" of both sides during the process.
Meanwhile, following the International Criminal Court's decision to charge Putin with crimes against humanity for alleged war crimes committed in Ukraine, Moscow's Investigative Committee Monday accused ICC Prosecutor Karim Ahmad Khan and Justices Tomoko Akane, Rosario Salvatore Aitala and Sergio Gerardo Ugalde Godinez of illegally ordering Putin's arrest and that of Russia's Presidential Commissioner for Children's Rights Maria Lvova-Belova.
The criminal proceedings initiated by the ICC were deemed "intentionally unlawful, as there are no grounds for criminal responsibility." Moscow's judiciary also argued that, under the 1973 Convention on the Prevention and Punishment of Crimes against Internationally Protected Persons, heads of state enjoy absolute immunity from the jurisdiction of foreign states.
Thus, the Investigative Committee considers that the actions of the prosecutor and judges contain elements of crimes provided for in the Russian Criminal Code, namely "criminal prosecution of a person known to be innocent, combined with the illegal conviction of a person for a serious or particularly serious crime, as well as the preparation of an attack against a representative of a foreign state enjoying international protection, with the intention of aggravating international relations."