"Party-gate", Boris Johnson acknowledges he provided false information to Parliament, but not "intentionally"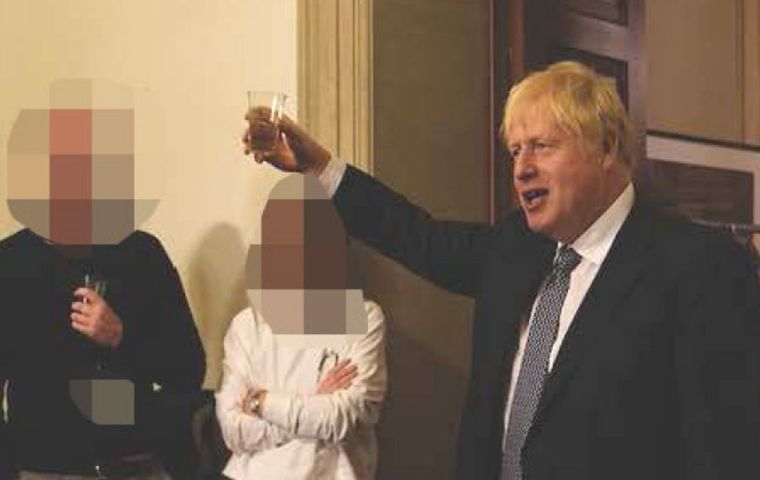 Former British Prime Minister Boris Johnson on Tuesday acknowledged that he provided false information to Parliament about government parties that were held in violation of COVID-19 restrictions. However, Johnson insisted that he did not "intentionally mislead" Parliament about the parties.
The former prime minister made the comments ahead of questioning by a parliamentary committee scheduled for Wednesday afternoon.
In a dossier of written evidence to the House of Commons Committee of Privileges, Johnson said that "my statements to Parliament that the Rules and Guidance had been followed at all times did not turn out to be correct."
He claimed that his statements were "made in good faith and on the basis of what I honestly knew and believed at the time."
"I did not intentionally or recklessly mislead the House," Johnson claimed.
"There is not a single document that indicates that I received any warning or advice that any event broke or may have broken the rules or guidance," he said.
"In fact, the evidence before the Committee demonstrates that those working at No. 10 (Downing Street) at the time shared my honest belief that the rules and guidance were being followed," Johnson argued.
The former head of government also cast doubt on whether Dominic Cummings, a former top adviser who said Johnson "obviously lied" to police, could be considered a "credible witness."
"It is no secret that Dominic Cummings bears an animus towards me, having publicly stated on multiple occasions that he wanted to do everything that he could to remove me 'from power'," Johnson said. "He cannot be treated as a credible witness."
Boris Johnson resigned as prime minister in 2022 following a number of scandals, including reports that he and government staff held gatherings that violated COVID-19 rules.
Johnson initially said he was unaware of the illegal parties, later saying that he knew of them but did not believe that they had broken any rules. In April 2022, Johnson was fined by police for breaking coronavirus lockdown rules, making him the first PM to receive such a penalty while in office.