Uruguayan Supreme Court gives thumbs down to Pepín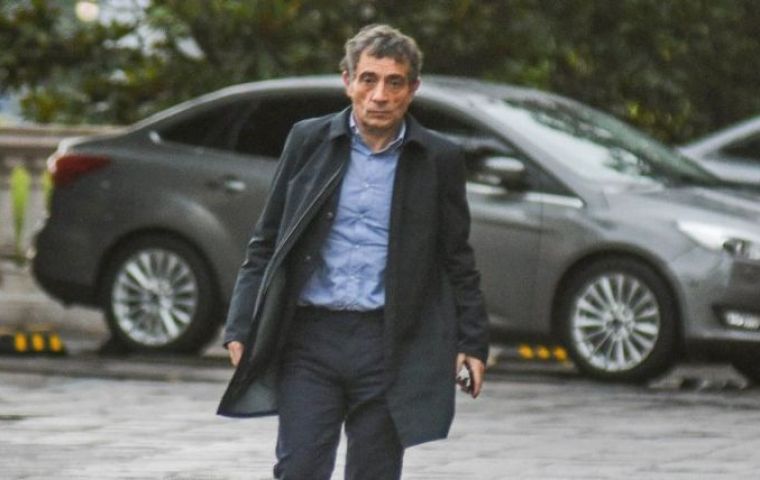 Uruguay's Supreme Court Tuesday voted against granting refugee status to former Macrist lobbyist Fabián "Pepín" Rodríguez Simón, who is staying in Montevideo to avoid an arrest warrant from Buenos Aires claiming political persecution and parliamentary immunity as a member of Parlasur.
Despite Tuesday's ruling, Pepín's deportation might still take quite a few months because his legal team has announced it would file an appeal and add "new facts" for consideration, which would prove he is entitled to asylum.
For the time being, however, the Supreme Court ordered the deportation proceedings to be resumed. Pepín is said to have harassed media owners to benefit businessmen akin to former Argentine President Mauricio Macri.
Pepín is subject to an extradition request from the Argentine judiciary and does not have parliamentary privileges despite his status as a Mercosur legislator for Cambiemos, Uruguay's Supreme Court ruled. Hence, lower court judge Adriana Chamsarián, who had already rejected Rodriguez's request for refuge, must resume his "extradition trial."
The Uruguayan Court made its decision last Monday, March 13, but it was not made public before March 21, it was reported in Montevideo.
"In the judgment of the Supreme Court of Justice it is appropriate to declare the inadmissibility of the appeal in process," wrote Justices Elena Martinez, Tabare Sosa Aguirre, and John Pérez Brignani in their ruling while recalling that "there are only two types of sentences with respect to which this appeal may be filed", and that they are "final sentences -whether convictions or acquittals-" and "interlocutory sentences with the force of finality, insofar as they put an end to the criminal action or make its continuation impossible."
"In the opinion of the Supreme Court of Justice, the answer is clear, inasmuch as the challenged resolution does not put an end to the criminal action, nor does it make the continuation of the main proceeding impossible. In effect, the challenged resolution brings as a consequence that the extradition process will continue, and it will be there, within the framework of the contradictory proceedings that will be established, that the situation of Rodriguez will be resolved", they remarked.
However, there is a second request for refuge that the lawyers of "Pepín" presented in December, with the argument that "new facts" would support the theory that their client is in danger of persecution. "The new facts are references to recent speeches made by Vice-President Cristina Kirchner and to issues that occurred within the framework of the impeachment trial of the members of the [Argentine] Supreme Court," Pepín's lawyers explained.
These "new facts" would be recent public statements by Argentine President Alberto Fernández and Vice-President Cristina Fernández de Kirchner, which link the influence of Macrismo (and of "Pepín" himself to a great extent) to the allegations that there is no longer a rule of law in Argentina.
Pepín was among those summoned by Argentina's Lower House in its impeachment preparations against members of the Supreme Court who did not attend.