At least 13 dead in Brazilian favela police raid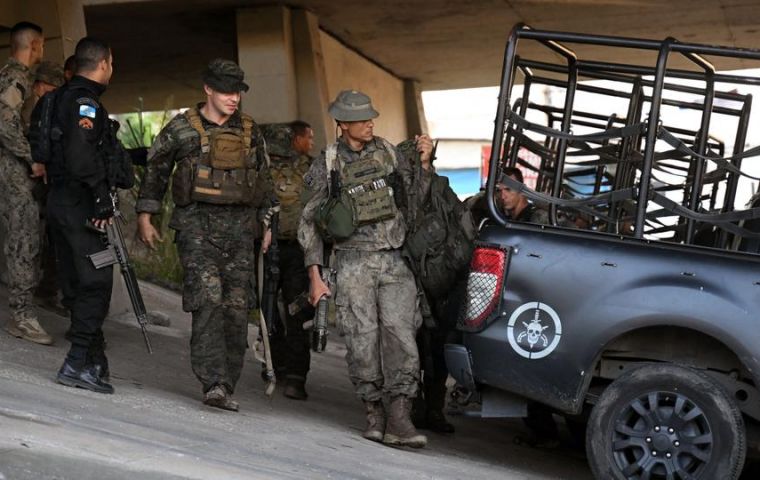 At least 13 people died Thursday after a law enforcement raid in a Brazilian favela (shantytown) located in Rio de Janeiro seeking to capture members of the so-called Comando Vermelho (Red Command) outlaw group.
Three other people -two women and a man- were also reported to have been injured after the joint deployment of police and military forces in the Favelas de Salgueiro Complex, in the municipality of Sao Goncalo, in the Brazilian metropolitan region of Rio de Janeiro. They were later said to be in stable condition.
The authorities were particularly interested in arresting gang leader "Léo 41," who was believed to be the head of drug trafficking in the state of Pará and one of those responsible for a series of attacks in which some 40 law enforcement officers have been killed since 2021, and who was among those killed Thursday.
The operation involving some 80 officers, five armored vehicles, and two helicopters, also seized 13 rifles and a pistol. Two people were arrested.
"There are 13 dead, two individuals arrested and a large number of weapons seized," Fabrício Oliveira, from the Coordination of Special Resources of the Civil Police of Rio de Janeiro, said in a press briefing. "It was a very violent operation on their part," he added. Oliveira also explained that these gangs use "military and guerrilla tactics."
The Red Command, which emerged in Rio de Janeiro, is one of the largest criminal organizations in Brazil, dedicated to drug trafficking. "All our armored vehicles and aircraft received several rifle shots," he also pointed out.
Among the dead is "the main leader of the largest criminal organization operating in Para," Governor Helder Barbalho wrote on Twitter. "Leonardo Araújo, known as 'L41,' a fugitive from justice, died in a confrontation with security agents," he said.
Amnesty International Brazil criticized the Rio government for carrying out an "institutionalization of the policy of extermination" in a "disastrously lethal" operation in Sao Goncalo. "Until when will the peripheral, favela, and black population of Rio have to put up with the policy of war that guides the Rio police?" AI wrote on social media.
In 2021, 1,356 people died at the hands of police forces in the state of Rio de Janeiro, most of them killed in confrontations, according to the Monitor da Violência project.