Lula reschedules departure for China after pneumonia diagnosis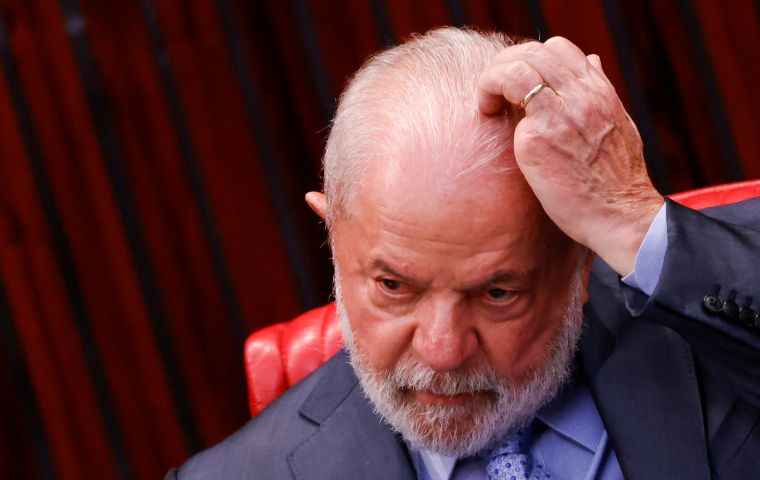 Brazilian President Luiz Inácio Lula Da Silva postponed his departure for China after being diagnosed with a mild case of pneumonia, Agencia Brasil reported.
After undergoing a series of tests on Thursday at the Sírio Libanês Hospital in Brasilia, following a trip to the States of Paraíba, Pernambuco, and Rio de Janeiro, the head of state remained at the Alvorada Palace on Friday. All his meetings with ministers at the Planalto Palace were canceled.
"The president of the Republic, Luiz Inácio Lula da Silva, is at the Alvorada after exams at the Sírio Libanês hospital last night. The president is suffering from mild pneumonia and will, because of this, postpone to Sunday the start of his trip to China," The Office of the Presidency said in a statement.
Minister of the Secretariat of Social Communication (Secom) Paulo Pimenta said President Lula was recovering well and that he has already been released by his physicians to depart for China on Sunday.
"The president is feeling well, he is very motivated. As he will travel to China next Sunday, he made a point of scheduling a meeting with some ministers in order to plan the week to come," said Pimenta, who also pointed out that Lula's engagements in China have not changed.
He is to start by meeting with businessmen and public officials on sustainable development on Monday in Beijing. The main diplomatic events of the trip are scheduled for Tuesday when Lula will have meetings with China's President Xi Jinping, Prime Minister Li Qiang, and with the chairman of the National People's Assembly Zhao Leji.
Next Wednesday, Lula is to attend a business event promoted by the Sino-Brazilian High-Level Committee and the Ministry of Development, Industry, Commerce, and Services, with the participation of over 240 Brazilian businessmen.
On March 30, President Lula will go to Shanghai, where he will visit the headquarters of the New Development Bank, an entity created by the BRICS (a group formed by Brazil, China, India, Russia, and South Africa). On the occasion, former president Dilma Rousseff will be sworn in as head of the bank.
Brazil's Foreign Ministry estimates that at least 20 trade agreements will be signed during Lula's first visit to an Asian country in his third presidency.
(Source: Agencia Brasil)