Lula postpones visit to China because of pneumonia, but huge Brazilian delegation in business negotiations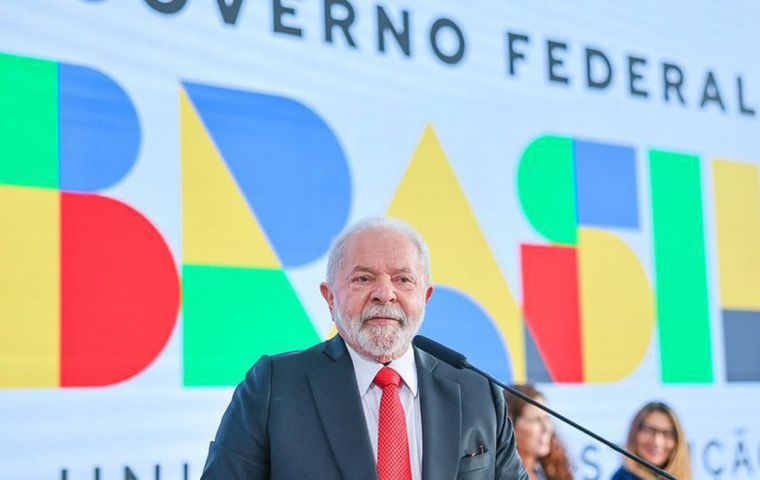 Brazil informed Beijing that president Lula da Silva'a official visit to China had to be postponed because the Brazilian leader had contracted influenza and pneumonia. This however has not prevented a major business and investment summit between the two countries to continue in Beijing with the participation of a Brazilian delegation of some 240 members.
China expressed understanding and sent warm thoughts to Brazil's president, and his counterpart, Xi Jinping on Sunday sent a message of sympathy to Lula. Xi also welcomed Lula's early visit when it is convenient for both sides.
Lula was scheduled to pay a state visit to China from March 26 to 31, accompanied by a delegation of some 240 business representatives, a record high, including 90 from the agriculture sector.
"The postponement won't affect the bilateral communications and cooperation that have been prepared or are already on the table," Pan Deng, executive director of the Latin American and Caribbean Region Law Center of China University of Political Science and Law, said on Sunday.
As part of the preparations for Lula's visit, a great deal of positive outcomes have already been made, Pan pointed.
Some communications between think tanks and business fields of the two countries have started and those will not be affected by the postponement, Pan noted.
Brazil's Agriculture Minister Carlos Favaro together with hundreds of agribusiness leaders arrived in Beijing last Wednesday, a business delegation "unusually large" and that has "laid the groundwork for several potential agreements between the two countries."
One of the highlights for Lula's visit was to boost Chinese investment to Brazil and China's import of Brazil's products. Despite the postponement, the relevant discussions will continue, Pan noted.
"What matters is that Chinese business people have confidence in doing business with Brazil," Pan added.
China and Brazil are on track to agreeing on the great benefits of technology for national development, so there will be a lot of cooperation between the two countries in this field, notably in internet technology, civil aviation and new energy, Chinese experts said.
Trade flow between China and Brazil currently amounts to US$150 billion (€140 billion) annually, and Brazilian exports to China reached US$89 billion in 2022.
China now invests in a wide range of sectors in Brazil, and experts say Beijing has always wanted to tap into the South American country's rich resources and market size.
"Brazil has a lot of resources that are of interest to China, and soy from Brazil is a major component of China's overall thinking on food security," said Margaret Myers, director of the Asia and Latin America Program at the Inter-American Dialogue (IAD).
Myers added that, given the size of the Brazilian market, it was a natural choice for Chinese companies to make it one of their first destinations in Latin America.
Other analysts point out that Lula's trip aims to further expand Chinese investment in Brazil, particularly in the manufacturing sector.
Evandro de Menezes de Carvalho, a professor of international law at Brazil's FGV University, said that Brazil hopes to attract Chinese companies that can help foster growth in areas like automobiles and green energy.