Poverty in Uruguay down to 9.9% in 2022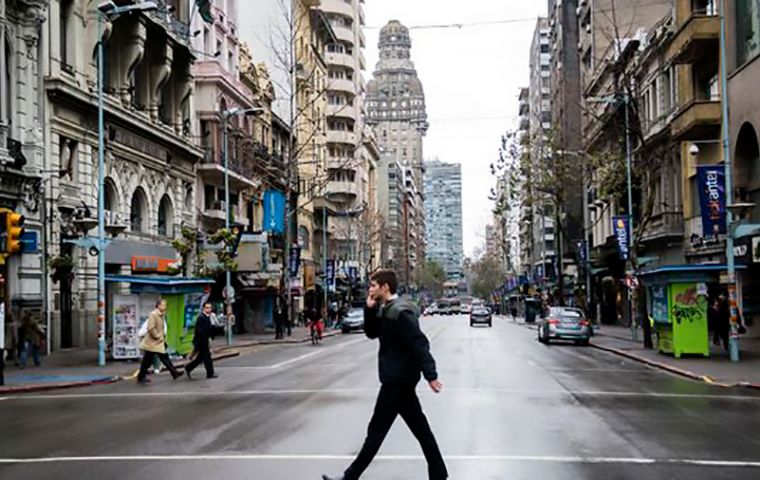 According to Uruguay's National Statistics Institute (INE), the number of people under the poverty line reached 9.9% of the population in 2022, an improvement from 2021's 10.6%, it was reported in Montevideo.
In other words, out of every 1,000 Uruguayans, 99 of them do not earn enough to cover their basic food and non-food needs.
Poverty in the country's capital was found to stand at 8.8% of households, followed by urban localities of 5,000 inhabitants or more. It "continues to affect female-headed households to a greater extent, both in Montevideo and in the interior of the country," INE stated in its report.
The highest poverty rates were recorded in the departments (provinces) of Cerro Largo, Rivera, Montevideo, and Treinta y Tres; while the lowest levels were detected in Flores, San José, and Colonia.
Regarding indigence (extreme poverty), the INE found that 3 out of every 1,000 people do not reach the minimum income foreseen to cover basic food needs.
In the second half of 2022, a drop in poverty in minors is seen with respect to the same period of 2021. Poverty in children under 6 years of age recorded an incidence of 16.5% in the second half of 2022, when in the same period of 2021 it reached an estimated 21%. Meanwhile, in the 6 to 12 age group, the reduction was from 20.3% to 17.3%, and in the 13 to 17 age group, from 18.9% to 15.3%.
After a maximum record of 39.9% in 2004, the index showed an all-time low of 7.9% in 2017, after which it rose again to 11.6% in 2020 in the midst of the Covid-19 pandemic.
"The population under 6 years old, 6 to 12 and 13 to 17 years old is where the highest incidence of poverty is registered, regardless of the region of the country considered," INE also pointed out.
The Afro-descendant population continues to have the highest levels of poverty, with an incidence of 17.6% among those who declare themselves to be Afro-descendants.
Uruguay's economy grew 4.9% in 2022 and linked two years of expansion (4.4 in 2021) after the 5.9 percent decline in 2020 caused by the pandemic.