Relief in the financial sector, North Caroline bank takes over collapsed Silicon Valley bank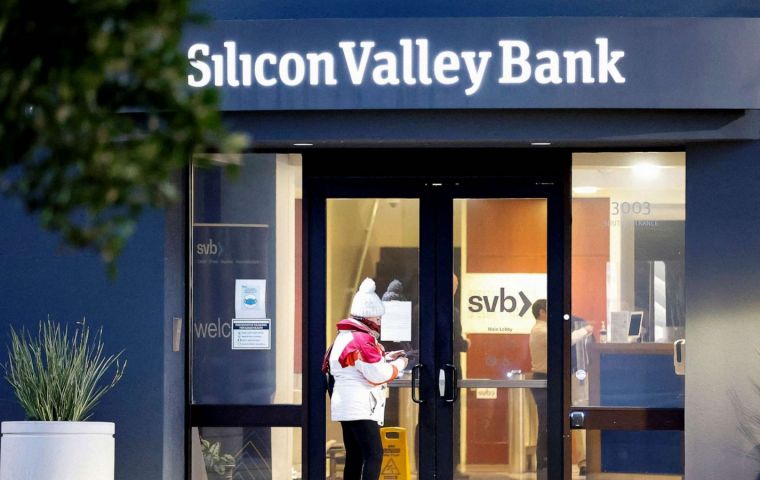 The banking turmoil, and fears, seems to be easing as assets and loans of collapsed California Silicon Valley Bank (SVB) are being bought by rival First Citizens BancShares.
Investors welcomed the deal, sending First Citizens shares up more than 40%.
The rise helped drive broader gains in banking shares, which have been in trouble since SVB's failure sparked fears over the stability of the sector.
In Europe, worries over the strength of Swiss banking giant Credit Suisse led to a rushed takeover by rival UBS and the Swiss government..
The deal for SVB brings to a close a saga that started earlier this month after a run on the bank forced US regulators to take over. Its collapse was swiftly followed by the failure of another US lender, Signature Bank in New York.
The demise of the two were the biggest bank failures in the US since the financial crisis of 2008.
Under the SVB takeover deal, all 17 former SVB branches will open under the First Citizens brand on Monday. SVB customers are being advised to continue using their current branch until they receive notice from First Citizens Bank that their account has been fully moved across.
First Citizens is based in Raleigh, North Carolina and calls itself America's biggest family-controlled bank. It has been one of the largest buyers of troubled banks in recent years.
The Federal Deposit Insurance Corp, the US financial regulator that announced the deal, said First Citizens had bought around US$ 72bn of SVB's assets at a discount of US$ 16.5bn - a deal that will make the bank one of the 25 biggest in the US.
The FDIC said it would retain control of about US$ 90bn of SVB's assets and estimated the cost of the SVB failure to its deposit insurance fund would be about US$ 20bn. It will also receive an equity stake in First Citizens worth up to US$ 500m.
The FDIC said it had received 27 bids from 18 bidders before settling on the First Citizens deal.The UK arm of SVB was bought by HSBC earlier this month for £1.