Argentina: "Blue" dollar reaches AR$ 397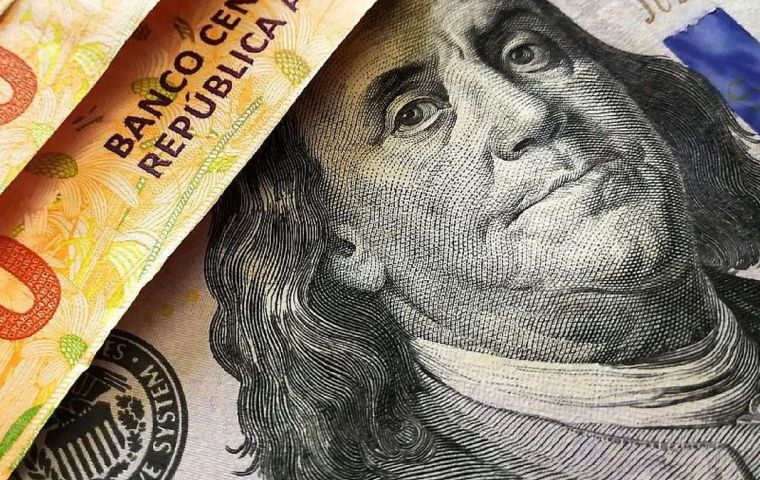 The unofficial exchange rate -commonly referred to as "blue"- between the Argentine peso and the US dollar reached AR$ 393 / 397 (buy/sale) after an AR$ 7 jump Tuesday, thus hitting a new record, it was reported in Buenos Aires. The blue dollar went up over AR$ 20 since last month for an 84.6% gap with the official quotation, which is virtually off limits for over 95% of the population to buy but available for anyone wanting to export.
A financial analyst quoted by BAE Negocios warned that if the gap crosses the 100% barrier it might soon soar to 120%.
Argentina's Central Bank sold reserves for US$ 74 million to meet market needs, in addition to Monday's US$ 95 million deficit for a total of US$ 1.628 billion in the red this month and US$ 2.688 million so far this year.
Given the maturities with the International Monetary Fund, tension due to the loss of reserves continues to increase, even more so after the pension funds announced by Economy Minister Sergio Massa.
Such a move would give Argentine authorities a flow of cash consistent with the IMF's demands (BCRA reserves are to be left untouched) but not quite so with those of their constituency.
In the current scenario, the BCRA sells US$103 million a day on average and the pace has been accelerating over the past fortnight. The demand for dollars does not ease down and the liquidation of agricultural exports did not go as expected due to the drought.
This combination of high demand and scarce supply has been putting strong pressure on the BCRA reserves even with the relief granted by the IMF in its last target review when the goal was lowered from US$5.5 billion to US$2.5 billion.
President Alberto Fernández is expected to bring these issues to the table in Wednesday's meeting at the White House with Joseph Biden in a move for foreign creditors to loosen the rein on Argentina.