Uruguay's Executive to cover for Central Bank's deficit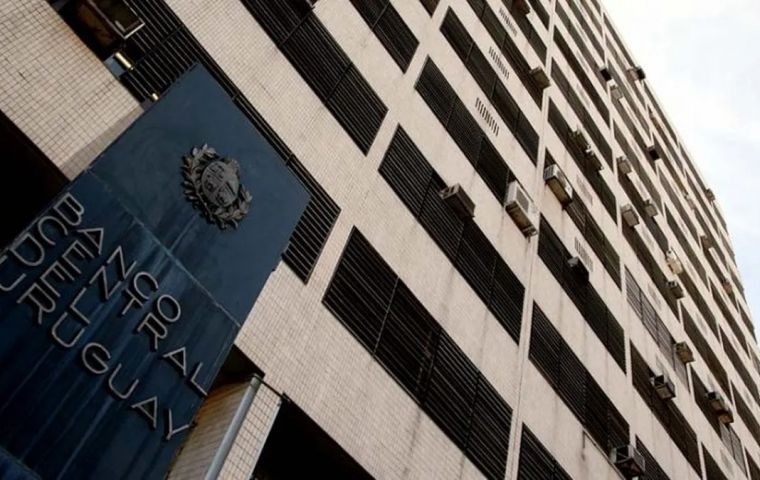 Uruguay's Executive Branch Tuesday admitted the Central Bank (BCU) reserves were below their legal threshold by Dec. 31, 2022, and a capitalization plan was therefore needed.
"As of December 31, 2022, the equity of the Central Bank of Uruguay is below the minimum provided by Article No. 8 of Law No. 16696 of March 30, 1995. Pursuant to said law, the Executive Branch will present a capitalization plan for the entity, to be implemented in 2023," Uruguay's Ministry of Economy and Finance (MEF) said in a statement.
Article 8 of this law states that "the Bank's capital is set at 5,000,000,000,000 UI (five billion indexed units)". The value of the Indexed Unit is 5.7138 [Uruguayan] pesos, according to the Banco de la República Oriental del Uruguay (BROU). Hence, the equity required by law is UY$ 28 billion (around US$ 727.5 million).
The MEF added that the "details of the capitalization process" will be announced "in the following weeks."
BCU authorities described the problem as "an accounting issue," according to local media.
The need to capitalize corresponds, according to unofficial data, to the fact that the Bank is very well positioned in dollars while its liabilities are in local pesos. It has assets for US$ 7.4 billion but has suffered losses for reasons such as the exchange rate in 2022 and the fall of the price of bonds since most reserves are in foreign securities and the local interest rate increased which entailed a higher interest to pay.
"The difference between this amount and the net worth of the Institution, according to its statement of net worth as of the effective date of this law, shall be contributed by the Executive Branch. By unanimous decision of the Bank's Board of Directors and with the prior authorization of the Executive Branch, the reserves referred to in the following article may be incorporated into the capital. Should the Bank's net worth fall below the amount set forth above, the Executive Branch shall capitalize the entity in accordance with a capitalization plan which shall be reported to Parliament no later than the following fiscal year."