US: Trump indicted in Stormy Daniels case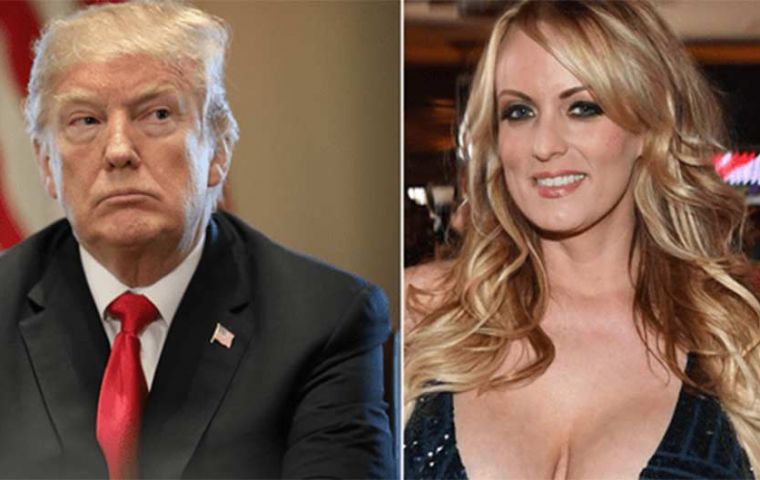 A New York Grand Jury Thursday voted in favor of indicting former US President Donald Trump for the US$ 130,000 payment during the 2016 presidential campaign to porn actress Stormy Daniels for her silence about an alleged relationship between the two of them.
According to The New York Times, the first indictment will be announced in the coming days. Trump had foreseen last week that he would be indicted and likely arrested in connection with this case.
Meanwhile, the Wall Street Journal reported that the grand jury has also reviewed a second case involving "Playboy girl" of the year in 1998 Karen McDougal, who also claims she had a sexual relationship with Trump for ten months in 2006. She reached an agreement to publish her story with The National Enquirer in exchange for US$ 150,000, but the newspaper - whose owner is a friend of Trump - bought her testimony to hide it.
If this case is proven, Stormy Daniels would not be alone in her allegations: there would be a pattern of behavior on Trump's part.
The indictment is likely to remain sealed until Trump makes an appearance in court. District Attorney Alvin Bragg confirmed is coordinating with Trump's attorney for his surrender. Bragg has been investigating the former president for alleged fraud, which carries a maximum sentence of four years in prison. Trump would still be eligible to run for president in 2024 under indictment.
"This is political persecution and election interference at the highest level in history," Trump said on Truth Social.
"From the time I came down the golden escalator at Trump Tower, and even before I was sworn in as your president of the United States, the radical left Democrats -- the enemy of the hard-working men and women of this country -- have been engaged in a witch hunt to destroy the Make America Great Again movement," he added.
Trump also spoke of "thugs and radical left monsters," and insisted in all capital letters that "THIS IS AN ATTACK ON OUR COUNTRY THE LIKES OF WHICH HAS NEVER BEEN SEEN BEFORE."