Arrest of former Peruvian President Toledo ordered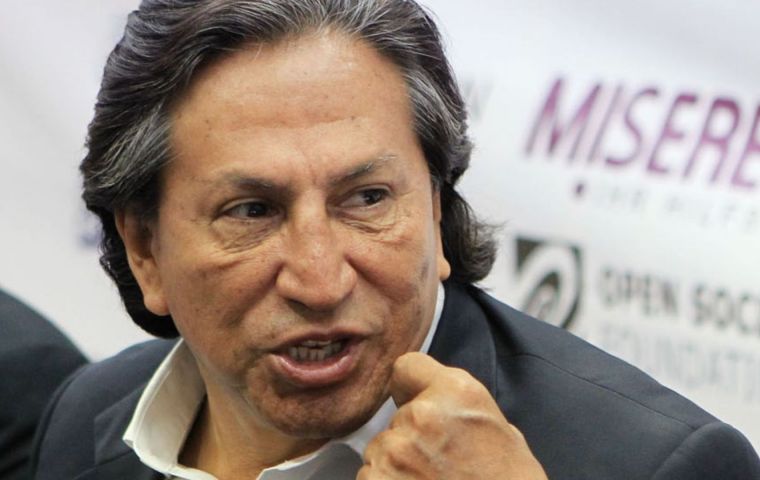 A US judge Wednesday ordered the arrest of former Peruvian President Alejandro Toledo Manrique, who is said to have received millions of dollars in bribes in exchange for awarding works to the Brazilian company Odebrecht. The Court revoked Toledo's parole and ruled him taken into custody to proceed with his extradition to his country, where he faces charges of corruption.
Federal Judge Thomas Hixson made the decision after the Ninth Circuit Court of Appeals of California rejected the former president's request to suspend his repatriation, approved by the same magistrate in 2021.
As per the court ruling, "Toledo should be transferred to an appropriate prison and remain there until his surrender to Peruvian authorities". The Court revoked the parole and ordered the US Marshall Service to take the defendant into custody when he turns himself in on April 7, at 9 am, San Francisco time.
In 2021 Hixson approved Toledo's extradition to Peru, pending clearance from the US government, which gave him the green light last February.
Prosecutor Ismail Ramsey warned Toledo's defense will file a new appeal, which the DoJ will also oppose, and asked for Toledo's imprisonment. "The court should revoke the probation order and should order his custody at the hands of the US Marshall Service. Once Toledo is in custody, the United States will execute the surrender to Peruvian authorities without legal impediments," Ramsey said.
Toledo is under indictment in Peru for having received millions in bribes in exchange for awarding Odebrecht the Interoceánica Sur highway to the company during his term in office (2001-2006). He has been a fugitive in the US since 2017.
Peruvian prosecutors requested Toledo serves 20 years and six months in prison for receiving an alleged bribe of US$ 35 million from Brazilian companies, including Odebrecht.
Meanwhile, Peruvian Justice Minister José Tello said Toledo's extradition will be swift and will be resolved in a matter of days after the former head of state was ordered to turn himself in next Friday.
Tello said in a TV interview that Toledo's arrest is now "guaranteed by the United States Justice" because there is already "a decision taken" by Judge Thomas Hixon whereby "it is appropriate for Mr. Toledo to make himself available to the US authorities for his incarceration."
"Now, sooner rather than later, Mr. Alejandro Toledo will answer to the Peruvian Justice," Tello went on before explaining that after he is in custody, Toledo could be in Peru in a matter of "days."
Once on Peruvian soil, Toledo will most likely be housed at the Barbadillo prison, in east Lima, where former Presidents Alberto Fujimori (1990-2000) and Pedro Castillo (2021-2022) are already held.