Uruguay's Health Minister worried about travelers bringing home dengue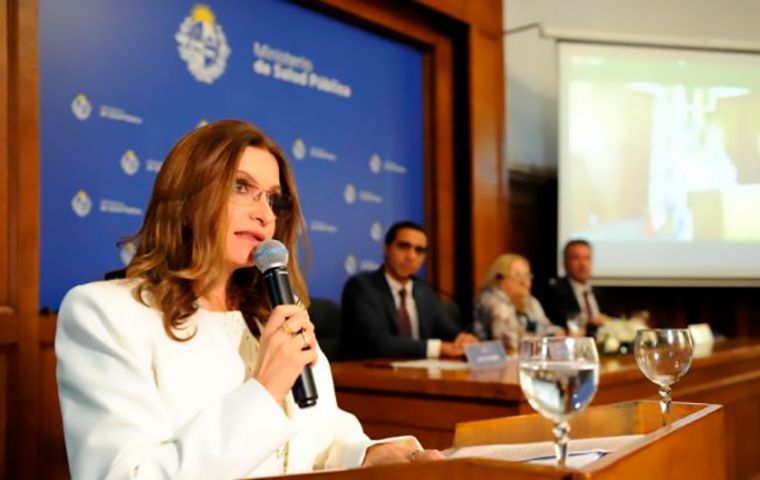 Uruguayan health authorities have issued a series of recommendations to nationals of the South American country traveling abroad, particularly to Argentina, for the Easter Weekend due to a surge in the number of dengue cases detected in the neighboring nation. Health Minister Karina Rando stressed that those returning from that country and from Brazil should be attentive to possible symptoms for 10 or 12 days.
"We are close to a country that has autochthonous dengue and we have the mosquito, we have the vector, there are aedes aegypti in many departments of the country, that is to say, that the conditions are there for autochthonous aedes to occur, but luckily we have not had it and we hope we do not have it. The reality is that we have to take care of ourselves," Rando said in a TV interview.
She added that "all those who return from Argentina or from any other country that may have dengue, such as Brazil, must control their symptoms because the incubation period is 10, 12 days or so."
The symptoms of dengue are headache, eye pain, muscle and joint pain, nausea, vomiting, enlarged lymph nodes, and a rash.
In Argentina, there have been more than 16,000 dengue infections in the last weeks and 14 deaths due to the disease.
In Uruguay, Easter Week is a holiday spanning five working days known as "Tourism Week." Hence, the Health Ministry issued a statement pointing out that "at the level of the region of the Americas and especially in some of the countries most chosen by Uruguayans for vacations, there is a risk scenario with an increase of cases of dengue, Chikungunya, covid-19 and some immunopreventable eruptive diseases such as measles" with a series of recommendations to be followed "fundamentally within 15 days after" the traveler's return.
People were advised to immediately seek medical help in the presence of any of the following symptoms: fever or feverish sensation, retro ocular pain (behind the eyes), muscle pain, joint pain, skin rash, and diarrhea, in which cases patients should disclose their travel history to the treating physicians.
If the medical condition allows it, people should avoid wandering and contact health care providers at home while remaining in isolation. In case of respiratory symptoms, initiate isolation measures for covid-19 and other respiratory viruses immediately.
People were also suggested to use mosquito repellent lotions and thermo-evaporable tablets, regardless of the presence of symptoms.