Lula in Beijing to meet Xi Jinping; both want to prop their countries international standings
Tuesday, April 11th 2023 - 11:07 UTC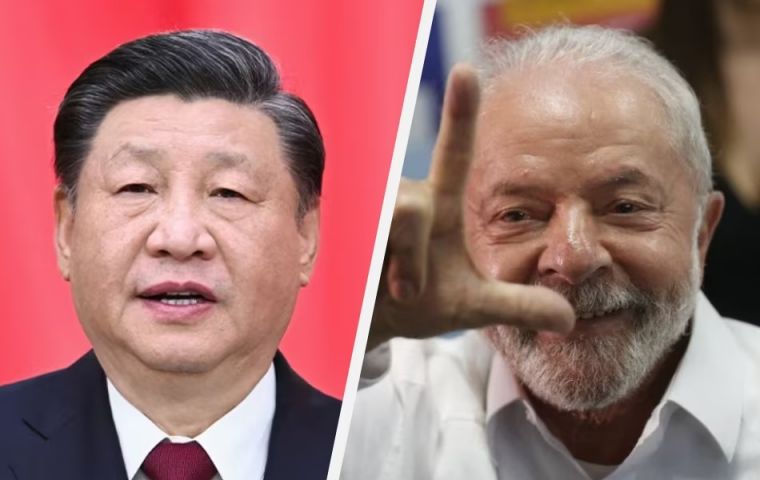 Brazilian president Lula da Silva begins today a four day official visit to China, (April 11/14), hosted by Xi Jinping at a time when both leaders have great foreign policy plans: Lula wants Brazil back in the grand chessboard and Xi is intent in trying to present his country as a global power that can rival (defy) the US.
The visit was originally scheduled for March, with Lula set to bring a delegation of 240 business representatives to Beijing, but a bout of pneumonia forced the visit to the delayed to April. Anyhow trade and investments are expected to be addressed in the Beijing talks since China is Brazil's main trading partner, some US$ 150 billion annually.
"Brazil has a lot of resources that are of interest to China, and soy from Brazil is a major component of China's overall thinking on food security," said Margaret Myers, director of the Asia and Latin America
Program at the Inter-American Dialogue.
Myers added that, given the size of the Brazilian market, it was a natural choice for Chinese companies to make it one of their first destinations in Latin America.
Other analysts pointed out that Lula's trip aims to further expand Chinese investment in Brazil, particularly in the manufacturing sector.
Evandro Menezes de Carvalho, a professor of international law at Brazil's FGV University, said Brazil hopes to attract Chinese companies that can help foster growth in areas like automobiles and green energy.
The agricultural sector will feature prominently during Lula's trip to China. Among them, the meat industry is particularly eager to gain more access to the Chinese market.
Leland Lazarus, the associate director for national security at Florida International University in the US, pointed out that China views Brazil as an important pillar in its engagement with Latin America. But Lula will likely try to strike a balance between prioritizing courting Chinese trade and investment and taking a tough stance on China when it came to environmental issues.
Although Brazil hopes to maintain its deep economic engagement with China, the dominance of Chinese companies across many sectors in Brazil has sparked unease among Brazilian businesses and industry leaders.
In a recent piece published by the US-based think tank Global Americans, Evan Ellis, an expert on Latin American Studies at the US Army War College Strategic Studies Institute, pointed out that Chinese businesses have invested an estimated US$ 70 billion in Brazil over the last two decades.
Additionally, Chinese businesses have projects in 23 of Brazil's 26 states, which span sectors like mining, agriculture, industry, telecommunications, finance and medicine.
While Brazil is not a signatory to China's flagship Belt and Road Initiative (BRI), the topic will likely be brought up when Xi and Lula meet.
While bilateral trade issues are expected to dominate talk between the two leaders, there are also important geopolitical implications. The two countries signed a 10-year cooperation plan in 2012, after Beijing upgraded the bilateral relationship to a "comprehensive strategic partnership."1
China also sent its then vice president, Wang Qishan, to attend Lula's inauguration earlier this year, highlighting the importance of Beijing's relationship with Brasilia.
Finally since both countries are members of the BRICS group of emerging nations, some experts expect Xi and Lula to discuss the current status and future prospects of the alliance. Likewise in this framework the ongoing war in Ukraine can be expected to be addressed, but from a more pragmatic sense, including aspects related to BRICS and the implications of the conflict for the group.
Additionally, Brazil's role as a major player in South America can also offer a balancing effect amid the rising tensions between China and the US, said Dawisson Lopes, a professor of international and comparative politics at the Federal University of Minas Gerais in Brazil.
"It's crucial for both China and the US to maintain good relationships with the largest country in South America," he underlined. Lula also visited US president Joe Biden before going to Beijing.