Buenos Aires Mayor distances himself from party leadership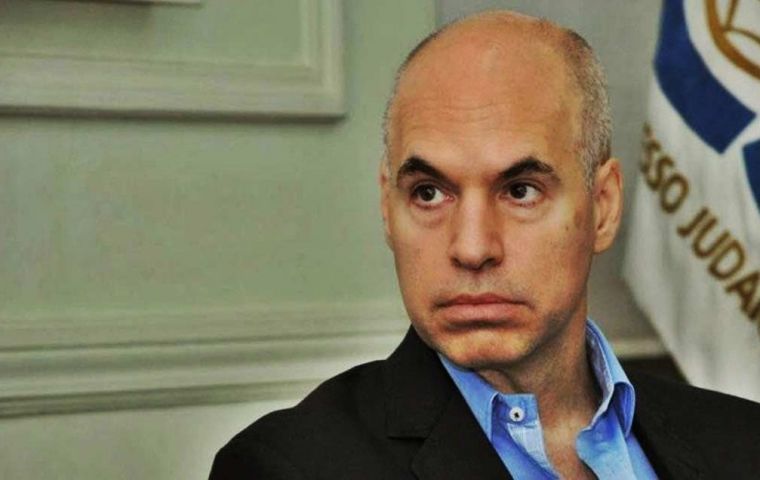 Buenos Aires Mayor Horacio Rodíguez Larreta's decision to hold municipal elections concurrently with the federal ones albeit with different (and electronic) ballot boxes has sparked friction among Argentina's opposition Together for Change (Juntos por el Cambio - JxC) coalition, particularly from former President Mauricio Macri.
Also disagreeing with the measure is PRO Chairwoman Patricia Bullrich, who seeks to challenge Larreta at the upcoming Mandatory, Simultaneous, and Open (PASO) elections.
In this scenario, Macri chaired a summit Tuesday of most JxC leaders, which Larreta did not attend. The Mayor of Buenos Aires insisted that as per the City's Electoral Code, he must use a single ballot containing the names of all candidates; hence, the need for a separate box and questioned Macri for not wanting him to follow the law. "I do not participate in internal arguments," Larreta was quoted as saying. "You will never hear me criticizing [or] questioning another member of JxC," he added.
In a calm tone of voice, Larreta explained that with the system he chose to implement "there are no favored ones," while defending time and again his power to determine when and how porteños vote. "If there is a difference, we discuss it. But this is a decision I make as head of government," which has infuriated Macri.
Larreta also pledged to bring the Single Electronic Ballot system to the federal elections "if the people elect me as President."
When announcing he would not run for President, Macri hoped to retain some decision-making within his political space. His former aide's going solo seems to herald Macri's support for Bullrich, according to Buenos Aires political analysts consulted by MercoPress. But that decision is yet to be announced.