Argentina working with dengue as with Covid-19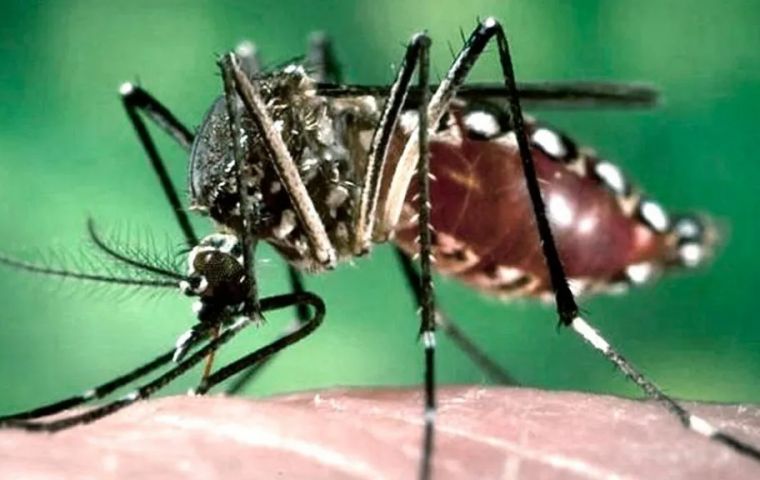 Argentine Health Minister Carla Vizzotti Wednesday said her country was treating the dengue outbreak with the same degree of concern with which the Covid-19 pandemic was handled.
"We are working as we did during the pandemic to minimize the impact of this dengue outbreak," Vizzotti said in the Argentine province of Santa Fe where she met with her local colleague Sonia Martorano to address the epidemiological situation.
"As we did during COVID-19, we now have to report seriously on dengue," Vizzotti pointed out. "There should be no pathology that requires a more comprehensive approach than dengue, with the action of the teams in the territory, the intradomiciliary work of the community, and the importance of the media to help disseminate what actions are necessary for [its]prevention," she added.
"Our people demonstrated during the pandemic that they know how to take care of themselves when we tell them what the prevention measures are. And they also show solidarity by taking care of their community," Vizzotti went on while underlining the importance of preventing "mosquito bites, especially when there is a confirmed diagnosis of dengue because that is the way to cut the transmission chains."
The minister also pointed out that work should also be carried out in other areas such as vector control with the removal of trash, the efficient use of repellent, and early doctor consultations when symptoms appear.
"We are working as we did during the pandemic: Nation, provinces, municipalities, health teams, and the community, all together to minimize the impact of this dengue outbreak. We were able to deal with all the health situations we faced and we will be able to deal with this one. We are going to do everything in our power, as we have always done, working side by side to bring health closer to the people," Vizzotti also stressed.
"We coexist, build and articulate always with a single purpose in mind, which is to think about people's health," Martorano said.
The meeting was also attended by the National Epidemiology Director Analía Rearte, who reported that so far 28,235 cases of dengue (serotypes DEN-1 and DEN-2) had been detected nationwide, in addition to 915 chikungunya infections.