With "energy cooperation", Russia/China trade booming using Yuan/Rouble currencies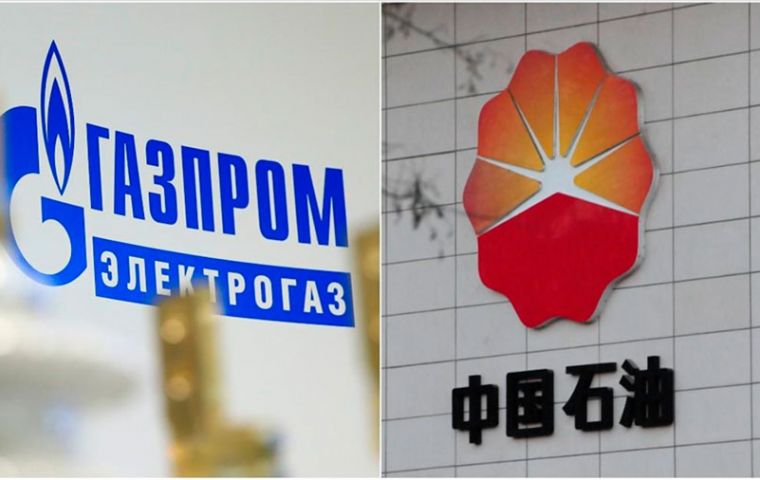 Energy cooperation helped China's overall trade with Russia maintain its strong growth momentum in the first quarter with an increase of 38.7% from a year earlier, far outpacing the growth of China's total trade.
Energy cooperation took more than 40 percent of bilateral commodity trade, playing a pivotal role, and with the promotion of local currency settlement accelerating, it is expected that bilateral trade will cross the US$200 billion threshold this year, Beijing media published.
First-quarter bilateral trade totaled US$53.85 billion. China's shipments to Russia rose 47.1% year-on-year to US$24.07 billion, while shipments from Russia were up 32.6% to US$29.77 billion, data from China's General Administration of Customs showed.
In March alone, total bilateral trade reached US$20.07 billion, up 77% on a yearly basis, accelerating from 36.4% in the first two months, Chinese customs data showed.
"The strong growth momentum is within market expectations as the top leaders of the two countries have clarified bilateral cooperation direction. Pragmatic economic cooperation has become an unstoppable trend," Song Kui, president of the Contemporary China-Russia Regional Economy Research Institute, said.
Song estimated that bilateral trade will cross the US$ 200 billion threshold this year given the robust growth. Last year, bilateral trade hit a record of US$190.27 billion. China's exports of mechanical and electrical products, automobiles and auto parts to Russia all grew substantially.
China has been Russia's largest trading partner for 13 consecutive years, and the two countries have continued deepening their energy cooperation and made solid progress in strategic projects.
Russia is now one of China's leading energy suppliers. The two countries have expanded their ties in the energy sector from pure commodity trading of oil and natural gas to industrial cooperation in oil and gas exploration and refining, said Liu Qian, an executive deputy director of the Center for Russian and Central Asian Studies at the China University of Petroleum (Beijing).
China purchased more than 6.5 million tons of liquefied natural gas and 86.25 million tons of crude oil from Russia in 2022, official data showed.
"The huge capacity and trade flexibility of the Chinese market could absorb a large part of Russia's energy and ensure the steady progress of large-scale energy cooperation projects," said Liu.
Enterprises of the two sides are maintaining exchanges and active consultations on the new Russian-Chinese natural gas pipeline project transiting through Mongolia, and China will continue to support enterprises in carrying out research and consultations in accordance with commercial principles, an official from China's National Energy Administration said during a press conference last week.
The construction of the Amur natural gas processing plant with the participation of Chinese-funded enterprises started in 2015. As of 2022, 87.52% of the construction work of the plant was completed, Russia's state-owned energy giant Gazprom, said in December last year.
The plant will send 38 billion cubic meters (bcm) of natural gas to China every year as designed, and the full capacity of 42 bcm will be reached in 2025.
"There is still great potential for China-Russian energy cooperation," said Liu.
On the one hand, Russia's natural gas supply to China will continue to grow. Besides, with the global energy transformation and China's "dual carbon" goals in place, there is also much room for cooperation in renewable, hydrogen, nuclear energy and in the clean and efficient use of energy, he explained.
As bilateral trade grows, the Chinese Yuan is gaining popularity in Russia, and local currency settlement by discarding the US dollar is going from strength to strength.
According to a report from the Bank of Russia, the country's central bank, the share of the Yuan/Rouble pair trading on the Russian exchange market reached a new high of 39% in March. During the same period, the share of the US dollar/Rouble pair fell to 34%, the lowest in recent years.
In February, the yuan surpassed the dollar in trading volume on the Russian exchange. Ozon Holding, one of Russia's largest online retailers, is doubling down on the Chinese currency to fend off increasing external uncertainties.