Work started on Royal Navy's next Type 26 frigate "Birmingham"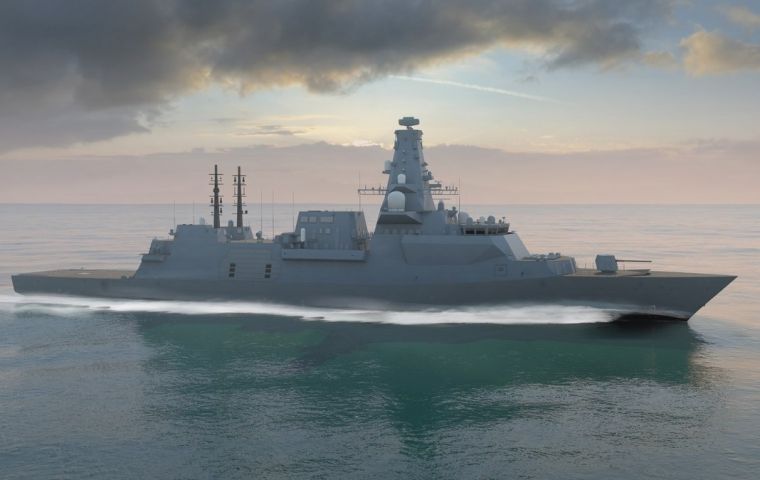 Work got underway on the latest of the Royal Navy's next-generation submarine hunters, a £840m Type 26 frigate warship which will carry the name and motto – Forward – of England's second city, Birmingham, around the globe for a quarter of a century.
Joined by VIPs from Birmingham, builders BAE and veterans of the most recent 'HMS Brum' – as the ships were nicknamed – Defense Procurement Minister Alex Chalk joined BAE shipwrights in cutting the first steel plate in Govan, Glasgow.
Commodore Steve Roberts, heading the Type 26 program for the Royal Navy, said: "Seeing the next Type 26 start the construction journey is a tangible representation of the success of the program, thanks to the hard work put in by the DE&S and BAE Systems teams.
"These advanced anti-submarine warfare ships will provide the Royal Navy with a world-class cutting-edge capability to protect our Nation's interests well into the future."
Birmingham is the first of the second batch of five frigates which will complete the class – Sheffield, Newcastle, Edinburgh, London – to join the original trio of HMS Glasgow, Cardiff and Belfast already under construction.
Identical to the first batch, but incorporating lessons learned in their construction and exploiting a new assembly hall which will shield the vessels from the Scottish elements unlike the first three Type 26s, the second batch represents a £4.2bn investment in the future of the Royal Navy and the shipbuilding/defense industry.
She'll be the fourth Birmingham to serve under the White Ensign, building on foundations laid by ships whose service spanned the 20th Century.
The first two were cruisers which served through World War 1 and 2 respectively. No.1 fought at Heligoland, Dogger Bank and Jutland and served around the globe until the early 1930s.
She was replaced by a Town-class cruiser which was deployed around the globe but only earned one battle honor in WW2 (Norway), adding to it with service in Korea and broken up in 1960 (her sister, HMS Belfast, survives as a museum in London).
The most recent Birmingham was a Type 42 destroyer which joined the Fleet in 1976. Unlike many of her class, she didn't serve in the Falklands conflict but was sent south as part of the security/peacekeeping operation around the islands afterwards.
Other peacekeeping duties included the Adriatic, protecting shipping in the Gulf during the 'tanker wars' and evacuating Britons and entitled civilians from Albania in 1997. She was paid off two years later and sold for breaking up in 2000.
The new Birmingham will be equipped with the Sea Ceptor missile defense system, a 5in medium caliber main gun, a Merlin or Wildcat helicopter, medium-range radar, powerful array sonars, a Mk41 vertical launch silo for missile systems, and a 'mission bay' allowing the ships to carry adaptable 'pods' for wide-ranging operations, such as disaster relief, drones, and mine warfare.