Argentine gov't losing grip: peso keeps plummeting
Tuesday, April 25th 2023 - 19:46 UTC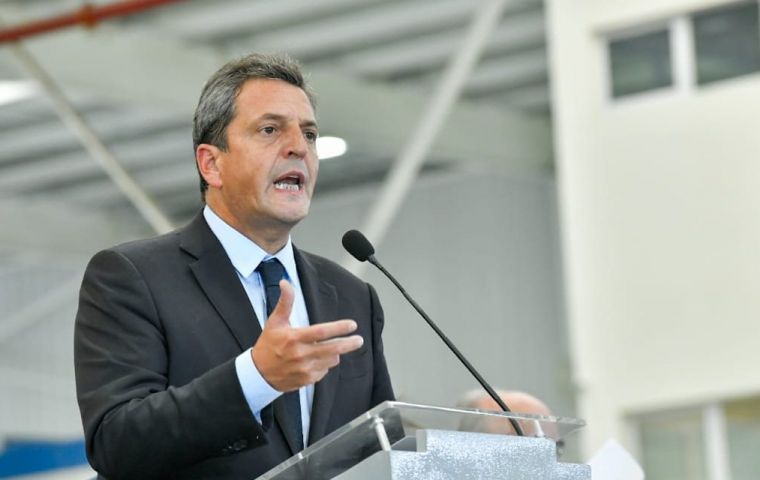 By Mordechai Taji – Argentina's authorities are losing grip of the economy as the "blue" (a euphemism for "black market") dollar hit AR$ 497 Tuesday before recoiling to AR$ 487, then bouncing back to AR$ 490, down again to AR$ 487 and back up once more to AR$ 495 amid growing unrest.
President Alberto Fernández's announcement that he would not seek reelection seems to have brought on the limping duck effect to an already battered economy which now relies on Superminister Sergio Massa's trip later this week to the United States to borrow some cash with which to stabilize the situation.
If he manages to garner the support he needs from Washington, Massa might be the ruling party's presidential candidate; if he does not, it is hard to fathom how a president who does not effectively rule can stay in office until Dec. 10. In other words, an early departure by Alberto Fernández would bring Cristina Fernández de Kirchner (CFK) back to Casa Rosada. In that scenario, and if it is her the one who achieves some financial tranquility, then she too might run for a new term in office.
The current crisis needs to be looked upon from the angle of a perennially mercurial economy with no clear skipper. From an economic point of view, the current dollar crisis is a matter of trust. Once -and if- that trust is restored, the soaring dollar will reach a new flat. However, it will not likely be anywhere below AR$ 450.
In the meantime, Argentine businesses closed for the day, because traders do not know what a reasonable sale price would be for their articles. And if anyone came to his or her senses and decided it was time to leave the country, the Ricchieri Highway linking the Autonomous City of Buenos Aires with the Ezeiza International Airport was blocked by picket fences mounted by residents demanding the electricity service be restored to their homes after day-long power cuts.
"For several days we have been experiencing an atypical situation of rumors, versions, false reports, and their consequent impact on financial instruments linked to the dollar," Massa explained on social media.
"We are going to use all the tools of the State to put this situation in order and in that sense, we notified the IMF of the restrictions that weighed on Argentina and we are going to change in the rediscussing of the Program," he also pointed out about his upcoming trip.
"Besides, we are going to use the Economic Criminal Justice as a vehicle for the investigation and clarification of some [of these] behaviors," Massa warned, saying this type of bizarre operations might be "related to money laundering."
"At the same time, we will continue with the multilateral agreements, exporters with the transformation of exports into yuan and the disbursement agreement with the IMF to strengthen the reserves that were damaged by the impact of the drought," the minister also explained.
This is valid through Tuesday afternoon. Anyone having lived in Argentina long enough remembers these crises -particularly the ones in 1989 and 2001 that led to presidential resignations- usually came together with looting and protests of which there are so far no indications. Stay tuned.