"Blue" dollar keeps backtracking in Argentina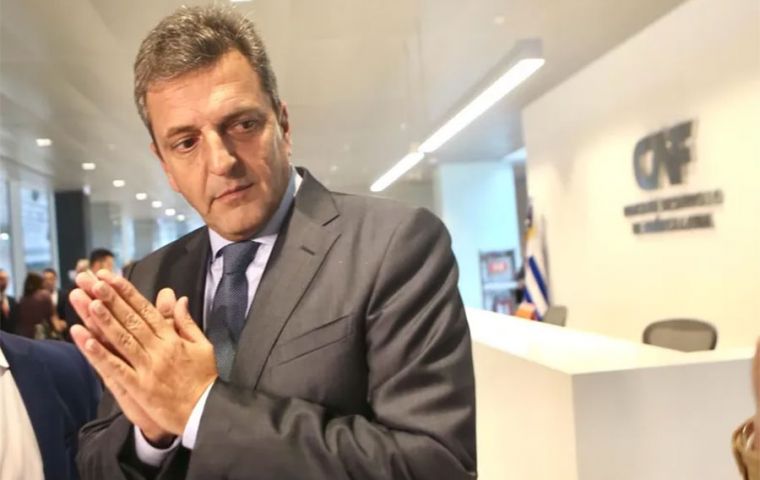 The "blue" (a euphemism for "black market") dollar dropped to AR$ 467 Thursday after further announcements and measures from Argentine authorities, after reaching an intraday record of AR$ 497 on Tuesday. It is still an AR$ 72 peso (18.2%) increase for the month of April.
Meanwhile, Argentina's Central Bank (BCRA) has raised its interest rate by 1,000 basis points to 91% "based on the objective of propitiating positive real returns on investments in local currency and of acting to preserve monetary and financial stability," according to a statement. It was the second increase in the monetary policy rate so far this month in the context of high inflation and exchange rate mercuriality.
The BCRA said it "will continue to monitor the evolution of the general price level, the dynamics of the financial and foreign exchange markets and the monetary aggregates in order to calibrate its rate policy."
Also Thursday, Economy Minister Sergio Massa secured a US$ 690 million loan with the Development Bank of Latin America (CAF) to be disbursed in 60 days and is a part of the National University Infrastructure Program.
During a meeting in Uruguay, it was agreed that the funds will be made available before June 30 for the construction, expansion, and improvement of facilities of academic institutions in different parts of the country "to expand coverage and improve the National University System and strengthen the operation and services provided by the institutions, in addition to linking the human capital trained in the universities with local productive forces", according to the official presentation of the plan.