Colorado Party's Peña wins Paraguayan elections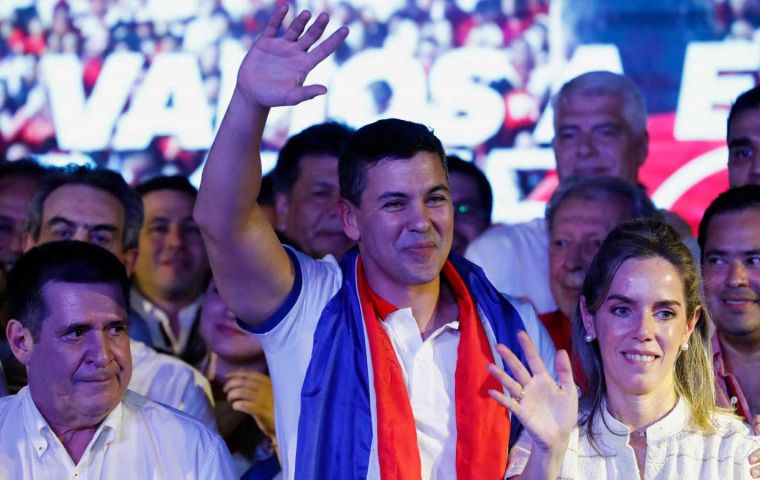 Santiago Peña of the ruling National Republican Association (ANR), also known as the Colorado Party, won Sunday's elections in Paraguay and will become the South American country's new president on Aug. 15, it was reported in Asunción. Turnout stood at 63.11% despite voting being mandatory.
With 94.74% of the votes counted, Peña and his vice-presidential running mate, Pedro Alliana, scored a resounding victory by 42.93% over Concertación's Efraín Alegre, who garnered 27.52% of the endorsements. Around 4.78 million Paraguayans were registered to vote.
"We congratulate the Paraguayan people for their civic maturity and democratic conviction," Superior Electoral Court (TSJE) Chief Justice Jorge Bogarín said.
Third came independent candidate Paraguayo "Payo" Cubas, who scored 22.73% of the votes.
Incumbent President Mario Abdo Benítez Sunday an "orderly and transparent" transition, one that strengthens the country's institutions and democracy.
"Congratulations to the Paraguayan people for their great participation in this election day and to President-elect Santiago Peña", posted Abdo Benítez on Twitter.
Among his campaign promises, Peña said he would once again relocate Paraguay's embassy in Israel, from Tel Aviv to Jerusalem. Under Peña's mentor, former President Horacio Cartes, Paraguay briefly moved its embassy to Jerusalem in 2018, but Abdo took it back to Tel Aviv when he came to power. Although both Abdo and ANR Chairman Cartes are from the same ANR party, they belong to opposing factions.
Paraguay is the only remaining country in South America to have diplomatic relations with Taiwan and is one of just 13 countries in the world that officially recognize the island as the "Republic of China." Peña pledged to maintain ties with Taipei.
Former national football team captain José Luis Chilavert obtained only 0.8% of the votes, which is tantamount to around 24 thousand people. "Our political platform emphasizes the generation of actions and government programs that improve the quality of life of our people, prioritizing the development of the most neglected sectors of our society", reads the official website of Chilavert's candidacy.
The ANR also won the legislative elections with 43.75% of the votes in the Upper House contest, followed by Alianza de Senadores por la Patria (23.29%) and the Alianza Patriótica Nacional (0.81%).