Ecuador and China reach FTA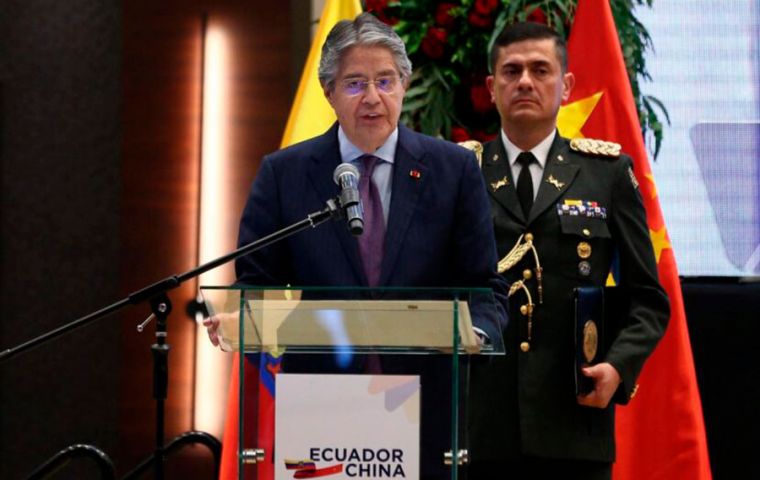 Ecuador and China signed a free trade agreement (FTA) whereby the South American country will have access to a market of 1.4 billion people, it was reported in Quito on Wednesday. It was the second such pact signed under the administration of President Guillermo Lasso, following the one reached with Costa Rica.
Ecuador's Production Minister Julio José Prado and Chinese Commerce Minister Wang Wentao signed a document during a video conference after months of negotiations.
"This signed document is a reflection of the mandate of the presidents of both countries. It puts Ecuador on the map of Asia and safeguards the most sensitive sectors," Prado said. More than 90% of Ecuadorian products will enter the Chinese market without tariffs or barriers, while barriers remain in place for more than 800 goods.
Minister Wentao congratulated the Ecuadorian Government and expressed his hope that the trade agreement will be approved as soon as possible.
"What we have signed opens up a market of 1.4 billion consumers. Nearly 50% of Ecuador's exportable supply will enter immediately when the agreement is in force, and the rest will have a 5-to-20-year phase-out period," Prado also explained.
Ecuadorian consumers will feel immediate price reductions in Chinese products such as telephones and other technological products. Other Chinese products that will enter immediately are medicines and machinery.
Foreign Minister Gustavo Manrique recalled that the ultimate goal is to make the phrase "more Ecuador in the world and more world in Ecuador" a reality.
Prado assured that all the sensitivities of the manufacturing sector, ceramics, textiles, white goods, leather shoes, and auto parts, among others, have been taken into account. Products from the family farming basket such as potatoes, onions, etc., will also be protected.
Tuna is among the traditional Ecuadorian exports that will enter the Chinese market with zero tariffs immediately, while flowers, bananas, and shrimp will be exempted from tariffs for 5 to 10 years.
China and Ecuador will keep their markets open to each other with higher standards through the trade pact and foster a more favorable, convenient, transparent, and stable business environment for enterprises, China's Minister of Commerce said.
The agreement will further unlock the potential of trade and investment cooperation between the two countries; promote the upgrading of China-Ecuador economic and trade cooperation in all aspects; advance sustainable, stable, and diversified development of bilateral trade; and deliver more benefits to people and enterprises of both countries, it added.
The negotiations for the China-Ecuador FTA were launched in February last year and concluded in February after a year of efficient consultations.