Javier Milei's Presidential Platform: Privatization, Gun Rights, and Immigration Restrictions
Thursday, May 18th 2023 - 11:49 UTC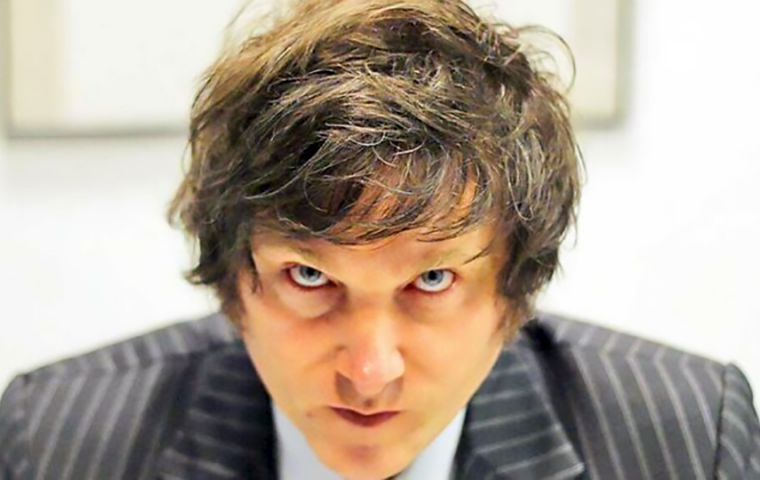 Controversial Libertarian Deputy Javier Milei pledged to sell off all of the State's assets, legalize the free carrying of weapons, privatize the health system, impose cuts in pension expenses, eliminate the compulsory nature of sex education in schools, and restrict the entry of foreigners, among other ideas if he is elected President of Argentina.
On registering his political alliance before the Electoral Judiciary, Milei said he will promote "a strong cut in public spending", the privatization of state-owned companies with deficits, the deregulation of the carrying of weapons, charge patients for all services provided by public hospitals, impose cuts in retirement and pension expenses, in addition to certain restrictions to foreign nationals, such as the payment of residency fees, the prohibition of entry to those with criminal records and the immediate deportation of non-Argentine criminals.
Milei's platform also assures that there would be a gradual elimination of social plans, the co-participation (nationwide distribution of federal resources) would be eliminated, and there would be a "competition of currencies that will allow citizens to freely choose the monetary system or the dollarization of the economy."
In addition, he proposes to unify the exchange rate, "to immediately release all exchange barriers" and to eliminate export and import duties.
La Libertad Avanza also proposes "the defense of the right to life from conception," as opposed to the right to abortion and a system of "educational check vouchers" for the parents of students, instead of financing the Education Ministry.
The party also favors the reduction of the "employer's taxes on labor" and the elimination of "severance payments without cause" to be replaced by a system of "unemployment insurance."
According to Milei's plan, foreigners entering the country must have health insurance with coverage of up to US$ 30,000 which will be mandatory for citizens of countries demanding such insurance from Argentine travelers.