Bolsonaro's son fined again by TSE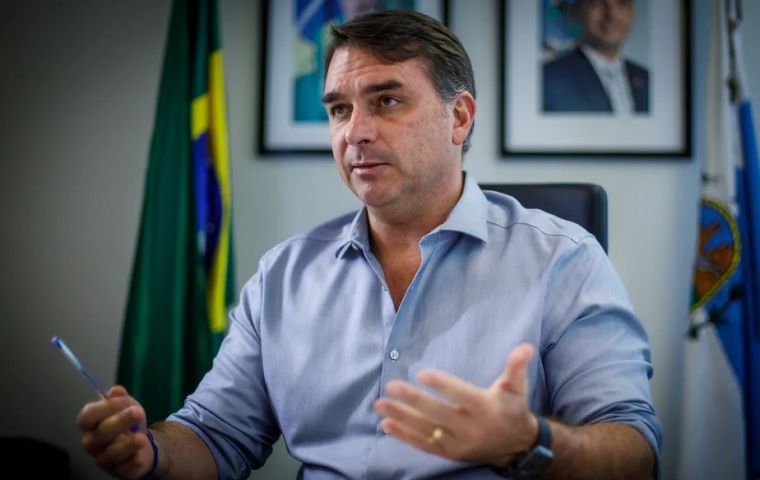 Senator Flávio Bolsonaro, son of former Brazilian President Jair Bolsonaro, and other legislators were fined R$ 10,000 (about US$ 2,000) Thursday by the Superior Electoral Court (TSE) for spreading false information against current head of state Luiz Inácio Lula da Silva.
The former president's son shared statements by Senator Mara Gabrilli, in which she insinuated that Lula and the Workers' Party (PT) would be behind the 2002 murder of the former Santo André Mayor Celso Daniel.
In addition to Flávio Bolsonaro, senator Mara Gabrilli and congresswoman Carla Zambelli, who already last year left one of the images of the elections in Brazil when she chased a PT supporter with a gun through the streets of São Paulo, were also fined in the same amount.
In October last, during the presidential runoff campaign, Gabrilli gave an interview in which she insinuated that Lula da Silva and the PT were behind Daniel's murder. Those statements were later shared on their social networks by Bolsonaro and Zambelli's son.
At that time, Lula's campaign filed a lawsuit against that content before the TSE, which ordered it removed as "disinformation."
Last month, Flávio Bolsonaro was fined several times by the TSE for sharing manipulated material against Lula during the campaign. A week ago he was sanctioned together with his brother Eduardo and Deputies Nikolas Ferreira and Zambelli for disseminating a video in which the president was accused of encouraging drug use. The amount of that fine is yet to be determined.
Flávio Bolsonaro was also fined R$ 5,000 for sharing a manipulated video leading people to believe that Lula had been possessed by the devil.