Uruguayans hold successful March of Silence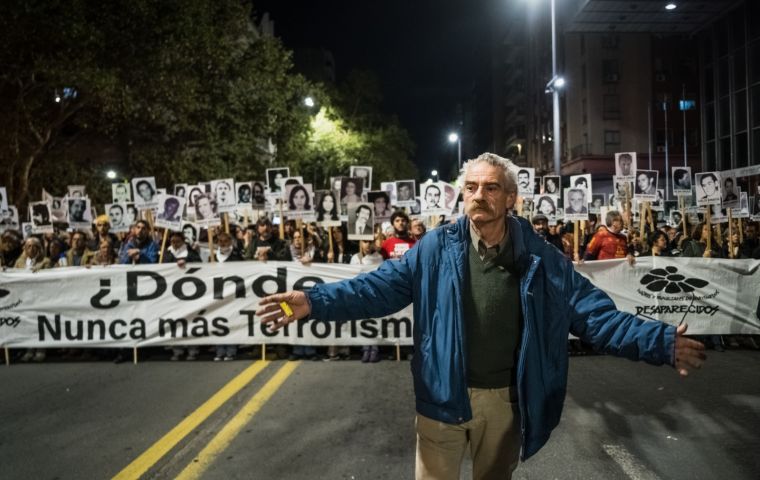 Thousands of Uruguayans marched through the streets of Montevideo on Saturday evening marking the 28th March of Silence to remember the missing persons victims of the last military dictatorship (1973-1984). With signs reading "Where are they?" and "Never again State Terrorism" the demonstrators insisted on their demands for Justice. Around noon Saturday, a tribute was also held at the memorial of the disappeared detainees in the Cerro neighborhood.
Minutes before the march began, Ignacio Errandonea, of the organization Mothers and Relatives of Uruguayan Disappeared Detainees was moved when asked about the number of people present. "It is really exciting. It also brings peace of mind because I don't know how many more haircuts I have left, but I know that with the youth who have taken up the banner and will continue to fight for our relatives, we will find them. That gives me enormous peace of mind," he said.
The initiative has been carried out since 1996 and has several social organizations behind it, among them Mothers and Relatives of the Detained to remember the victims of the military dictatorship.
Also Saturday, tributes were paid to murdered political leaders, such as Héctor Gutiérrez Ruíz and Zelmar Michelini, both assassinated in attacks on May 20, 1976.
Errandonea told Telenoche about the government's announcements to make the archives of the dictatorship freely accessible: "I fully agree that the archives should be open to everyone" and stressed that they should be "all the archives".
"We know that most of the archives are in the hands of the Armed Forces, we know they exist and we have not had access," he insisted.
The Ministry of Defense and the Ministry of Education sent to Parliament a bill to make the archives of the civil-military dictatorship freely accessible to the whole population.
Once the bill becomes law, society will be able to consult the Berrutti archives, which consist of thousands of pages of documents.