Argentina forecasted to become 2nd world lithium producer by 2035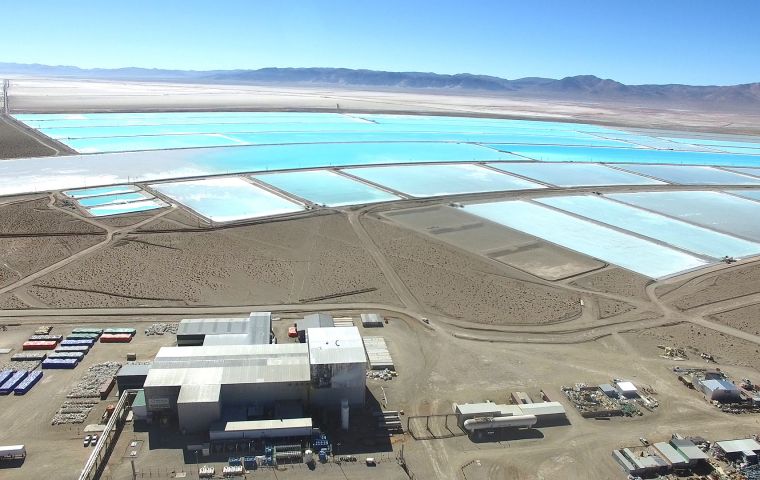 Argentina will overtake Chile as the world's second-largest lithium producer by 2035, according to the Chilean Copper Commission (Cochilco), it was reported in Santiago.
Due to a lack of planning, Chile will fall from second to third place worldwide in lithium production in 2035, with a difference of 79,000 tons and ceding the position to Argentina, Cochilco warned on Tuesday. "Chile would go from representing 32% of the market in 2020 to just 15% in 2030," a study showed.
"As a state, we are behind in a lithium strategy and policy. We should have invested in exploration much longer ago and made some strategic decisions a long time ago," explained Chilean Mining Minister Marcela Hernando.
"They have some projects and they estimate that they are going to produce, that they are going to be important producers. What we are interested in is that projects are developed in Chile and that there is more production," she said.
The study also warns of the arrival of other relevant international competitors such as Canada, the Democratic Republic of Congo, Mali, and Mexico, which have not yet developed a high exploitation capacity. The undisputed leadership will be, in any case, of Australia, a country that, unlike Chile and Argentina, extracts it from rock and not from salt flats, the document stresses.
At the world level, Cochilco projected a growth of 455 % with respect to the demand required last year -established at 690,000 tons-, an increase that mainly drives the development of the battery industry for electric vehicles, one of the key sectors in China and Europe in their transition towards electromobility.
The projection would lead to a shortfall in the market and drive prices up significantly, as mine production would only increase by 2.46 million tons over 2021 figures, he stressed.
"Probably, the closer we get to 2035, the more important the global portfolio of lithium projects is going to be than it is today and that gap is going to shrink," said Cochilco's director of studies and public policy, Víctor Garay.
Last week, the National Copper Corporation (Codelco), the world's largest copper producer, formally began negotiations with the private company SQM to incorporate the Chilean state in the exploitation of lithium in the Atacama salt flats, which contain 90% of the country's lithium reserves.
For Minister Hernando, SQM and the U.S. company Abermale "have to evolve to other methods, to other technologies. What we hope is that the evaporation method (only) lasts for a while".
With U.S. capital, lithium began to be exploited in Chile 30 years ago through a simple process of evaporation of the brine, after being pumped and deposited in large pools at a rate of 2,000 liters per second; the mineral is obtained when 95% of the water present in the original substance is lost.
Coldelco also reported "auspicious results" at the end of its exploration campaign in the Salar de Maricunga. This would host the second-largest concentration of lithium in salt flats on the planet after the Salar de Atacama.
"We are happy with the results and the future that is beginning to be drawn in the Maricunga salt flat. Although there are still several months of work ahead to determine a potential future project," explained the chairman of Codelco's board of directors, Máximo Pacheco.
Although there are more than 50 salt flats in the South American country, only one is currently being exploited, Atacama, the largest in Chile and the third largest in the world.
There are only two companies exploiting Chilean lithium: Sociedad Química y Minera SQM, controlled by China's Tianqi and the son-in-law of former dictator Augusto Pinochet (1973-1990), Julio Ponce Lerou; and the US-based Albemarle.
According to the Autonomous Fiscal Council (CFA), in 2022 the State earned more than 5,000 million dollars from the exploitation of this mineral, equivalent to 1.6% of the GDP.
In 2022 there were sales of lithium carbonate abroad for US$7,763 million, an increase of 777 % over 2021, according to the Central Bank.
(Source: BioBioChile)