Lula picks his own lawyer for Supreme Court
Friday, June 2nd 2023 - 11:20 UTC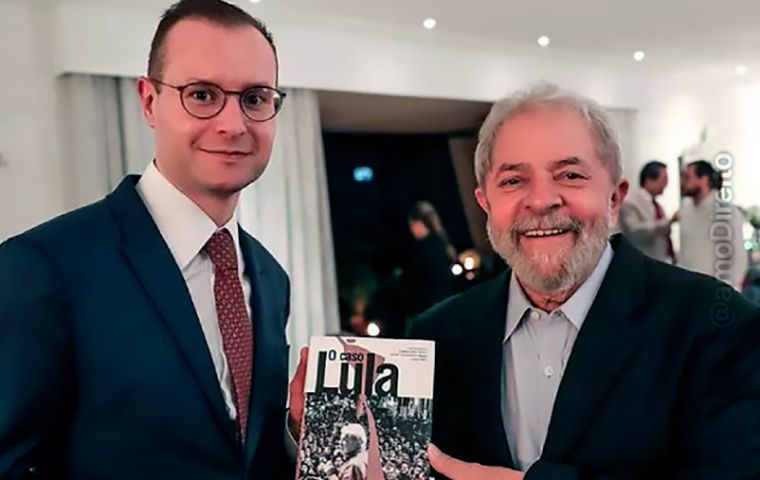 Brazilian President Luiz Inacio Lula da Silva Thursday chose his personal lawyer Cristiano Zanin Martins to become a new member of the Supreme Federal Court (STF). Zanin would fill the opening left by Ricardo Lewandowski's early retirement in April.
The 47-year-old Zanin has been Lula's lawyer since 2013 in the "Lava Jato" case, which led him to prison in 2018.
"It was already expected that I would nominate Zanin to the STF, not only because of my advocacy but because I believe he will become a great Supreme Court minister. I know his qualities, training, background, and competence. And I believe Brazil will be proud," Lula wrote on Twitter.
If approved by the Senate, Zanin will be able to sit on the Supreme Court until 2050, when he will turn 75, the mandatory retirement age for the judiciary.
Zanin gained notoriety for defending Lula in the criminal proceedings for the anti-corruption operation 'Lava Jato', which uncovered a corruption scheme in the state-owned oil company Petrobras.
The operation accused and imprisoned dozens of businessmen and politicians, among them Lula, who spent 580 days in prison after being convicted of corruption and money laundering.
The president was released after the STF overturned the convictions following appeals signed by Zanin, who during the president's imprisonment at the Federal Police headquarters in Curitiba became a sort of spokesman with bulletins on his legal situation.
One of the appeals caused the STF to rule that the former 'Lava Jato' star judge, now Senator Sergio Moro, had been biased in convicting Lula, which resulted in the annulment of the proceedings and convictions against the former president.
Zanin's thesis gained strength in 2019 when the portal The Intercept Brazil leaked some messages that revealed that former judge Moro, who would be Justice Minister under President Jair Bolsonaro, coordinated with prosecutors to imprison the historic PT leader.
"The appointment of a lawyer and personal friend of the president of the Republic in the Supreme Federal Court does not favor the independence of the institution and hurts the republican spirit," Moro wrote on social networks.
Together with his wife, also a lawyer, he is the founder of the law firm Valeska Teixeira Zanin Martins, which defines itself as "a specialist in confronting 'lawfare', an illegitimate form of the use of the law that has been adopted by some national and international authorities to obtain political, geopolitical, economic and military results."
Some STF judges have already spoken in favor of Zanin's appointment and given his profile, it is expected that his nomination will be approved without problems by the Senate.