Paraguay, Uruguay urge Mercosur to speak up about situation in Venezuela
Wednesday, July 5th 2023 - 10:55 UTC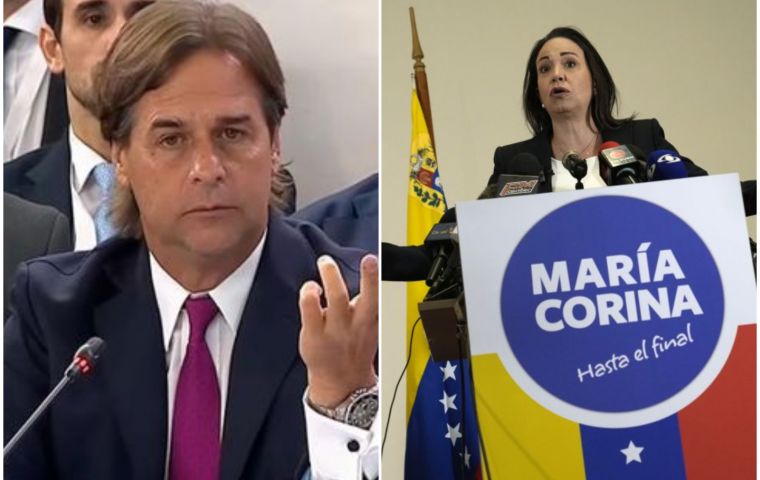 Presidents Luis Lacalle Pou of Uruguay and Mario Abdo Benítez of Paraguay Tuesday spoke against the disenfranchisement in Venezurela of opposition leader María Corina Machado in a move that seems to leave Nicolás Maduro's reelection bid unchallenged.
Both heads of state made those remarks on the second and last day of the 62nd Summit of Mercosur members and associates in the Argentine northeastern city of Puerto Iguazú in the province of Misiones.
Lacalle Pou and Abdo called to "speak out" against the measure rendering Machado ineligible for 15 years starting in 2015. Machado's disenfranchisement leaves next year's free and transparent elections in Venezuela in doubt.
In this scenario, differences between the four members surfaced as Argentina's Alberto Fernández was handing over the pro tempore presidency of the bloc to Brazil's Luiz Inácio Lula da Silva.
"What has happened with (María) Corina Machado we take into account and we propose a dialogue table. Problems are not solved by countries meddling in internal issues," warned Fernández. "If they really want to help, let's sit at the dialogue table. Let all those who disappeared join so that Venezuela can recover the fullness of its rights and institutional quality," he added.
Alberto Fernandez later said during a press conference that he would raise the issue of Venezuela at the dialogue table where Colombia, France, Mexico, and Argentina are participating.
Lula, who resumed Brazil's diplomatic ties with Venezuela this year, said he did not know the "details" of the "problem" with Machado, but that he intended to find out about it. He also agreed on dialogue as the best solution to the issue.
"When a way out, an itinerary of hope with the holding of elections with the opposition, we quickly saw that illusion extinguished with the disqualification of María Corina Machado," said Abdo. This is a fact that clearly and scandalously clashes with the clear letter of human rights."
"The only reasonable limit must be respect for democracy and human rights. It is with great concern that I am following the events of recent events in Venezuela," Abdo went on.
"Today we see a violation of the rights of the Venezuelan people and of Machado, which attack the nerve of Venezuelan democracy," he also noted.
"We all have a clear opinion about the Venezuelan regime. We have to try to be objective, this was discussed at a meeting in Brasilia (...) it is clear that Venezuela is not going to emerge as a healthy democracy, if when there is a glimpse of possibility in an election, a candidate like María Corina Machado, who has enormous potential, is disqualified for political and not legal reasons," Lacalle said. "A healthy democracy is not going to come out of Venezuela if a candidate with enormous potential is disqualified for political and not legal reasons," he added.
"The different blocs have raised their voices, and we do a disservice to Venezuelan democracy and its people if we do not raise our voices (...) Mercosur must give a clear signal," he went on.
Brazil and Argentina were expected to moot for Venezuela's return to Mercosur after being expelled from the bloc in 2017 due to a "breach of the democratic order." After assuming the rotating presidency of the group, Lula voiced his intention to "bring other South American countries" into Mercosur, to form a bloc with more negotiating strength vis-à-vis the European Union (EU) or China.