Ecuador: Death toll in prison clashes rises to 31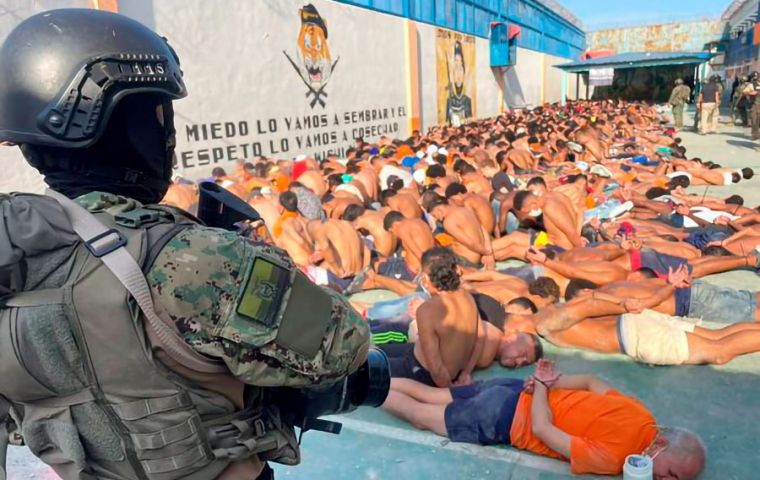 Ecuadorian authorities Tuesday confirmed that the number of inmates killed in prison clashes nationwide since July 22 had reached 31. In this scenario, President Guillermo Lasso declared a state of emergency in all correctional facilities for 60 days, through which some 2,700 law enforcement officers carried out a control operation at the premises, it was announced.
After that deployment, the Prosecutor's Office was able to proceed with the "removal of bodies and collection of evidence".
The number of injured also rose to 14, including a policeman, according to the latest report from the Public Prosecutor's Office on the events at the Guayaquil Penitentiary.
Interior Minister Juan Zapata said that by using its coercive force the State would recover "the tranquility and peace of Ecuadorians."
"The rotation of prisoners in the wards began. The force of the State will never bend," he added.
The latest massacre was a clash between the criminal gangs Los Tiguerones and Los Lobos, who broke a truce a few weeks ago, it was reported. At the same time, prisoner groups started a hunger strike in 12 other prisons nationwide, holding 137 prison guards hostage, of whom 120 were released Tuesday.
Lasso's decree provided for the intervention of the Armed Forces inside prisons, an exceptional temporary, subsidiary, and exclusive action in the event of serious disturbances of order. The measure also contemplated the suspension of the right to inviolability of correspondence and freedom of assembly among inmates.
Amid Ecuador's mounting violence, two of the journalists who investigated Lasso's alleged involvement in a corruption scheme leading to his impeachment process had to leave the country after receiving numerous threats, the NGO Fundamedios confirmed. Mónica Velásquez and Andersson Boscán, co-founders of the digital media La Posta, published in January an article titled "El Gran Padrino" (The Big Goodfather) exposing an alleged network of corruption devised by Lasso's brother-in-law Danilo Carrera.
During his impeachment, Lasso pled not guilty. Two days later he dissolved Congress and called for snap general elections next month.
In recent weeks, Velásquez and Boscán warned of alleged persecution against them. "After several threats of attacks against their physical and personal integrity, they left Ecuador for a safe country," Fundamedios said in a statement.
According to the NGO that watches over the rights of journalists, Velásquez and Boscán were warned by "foreign intelligence about a group of Albanian mafiosi that arrived in the country in the last days of last week with the order to make an attempt on their lives and those of other people."
La Posta said its workers were the target of "a gale of retaliatory actions by the Executive, in evident revenge." This year, two other journalists fled Ecuador due to threats: Karol Noroña, of the portal GK, and Lissette Ormaza, of the news program Majestad Televisión.