HMS Dauntless joins Colombian navy 200th anniversary and Unitas Exercise with 20 countries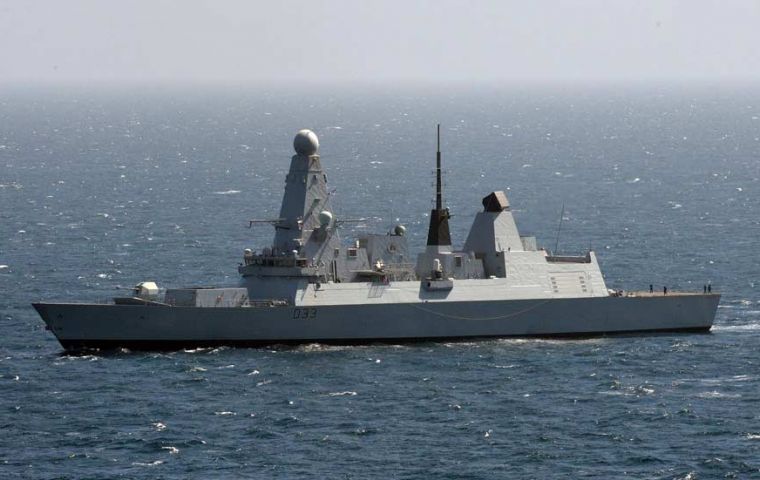 The Royal Navy's most advanced destroyer has completed a large-scale exercise off the coast of Colombia, marking a return to full front-line action after a major overhaul.
HMS Dauntless has deployed to the Caribbean Sea to counter drugs smugglers alongside the US Coast Guard and provide support and reassurance to British Overseas Territories during the region's hurricane season from June to November.
Dauntless in the Caribbean is replacing HMS Medway currently as Falklands patrol, since HMS Forth is in Gibraltar for maintenance and repair.
Kicking off the deployment, Dauntless – which returns to action fitted with brand new efficient engines – took part in the world's longest-running multinational military drills, sailing into Cartagena in Colombia for Exercise Unitas.
Dating back to 1959, Unitas (Latin for 'united') brings nations together to show a united front in the fight for stability and prosperity in the region, making it the United States Southern Command's most important exercise.
The Type 45 destroyer's presence – Dauntless was participating in her second Unitas (the first was in 2012) – shows the UK's commitment to the deepening relationship with Colombia, which is the only Latin American country to be a NATO partner nation.
In all 26 ships, three submarines, 25 aircraft and around 7,000 sailors and marines from 20 countries were involved in Unitas, which took place off the coast of Cartagena, as Colombia's navy celebrated its 200th anniversary.
The destroyer's Wildcat from 815 Naval Air Squadron was in the thick of the action carrying Sting Ray light torpedoes, hunting down submarines and simulating attacks.
Assisted by Dauntless' powerful array of sensors and a US Navy P8 Maritime Patrol Aircraft, the Wildcat showed its prowess in anti-submarine warfare. It was a major step forward with the Wildcat fitted with new weapon wings – which can hold a variety of armaments for use on a range of targets – as it proves its ability to hunt and destroy submarines and ships.
Alongside the UK, participating nations included Belize, Brazil, Canada, Chile, Colombia, Dominican Republic, Ecuador, France, Germany, Honduras, Jamaica, Mexico, Panama, Peru, Paraguay, Spain, South Korea, United States, and Uruguay.
The task group took part in warfare operations, including firing weapons and amphibious landings, while Dauntless operated in her main role as air defence destroyer.
The Royal Navy is one of our oldest allies of Colombia.
While in Cartagena, the Second Sea Lord, Vice Admiral Martin Connell, visited as Dauntless hosted dignitaries and a reception – which included a performance by the Royal Marines Band. "We work very closely with the Armed Forces of Colombia and in particular the Colombia Navy in order to co-operate against illicit trading."
Dauntless Commander Dorrington said "the advanced destroyer is deployed to the Caribbean as part of the UK's enduring commitment to our overseas territories and nations in the Commonwealth. We stand ready to support in the event of a natural disaster." (Royal Navy)