Uruguayan businessmen concerned over shopping trips to Argentina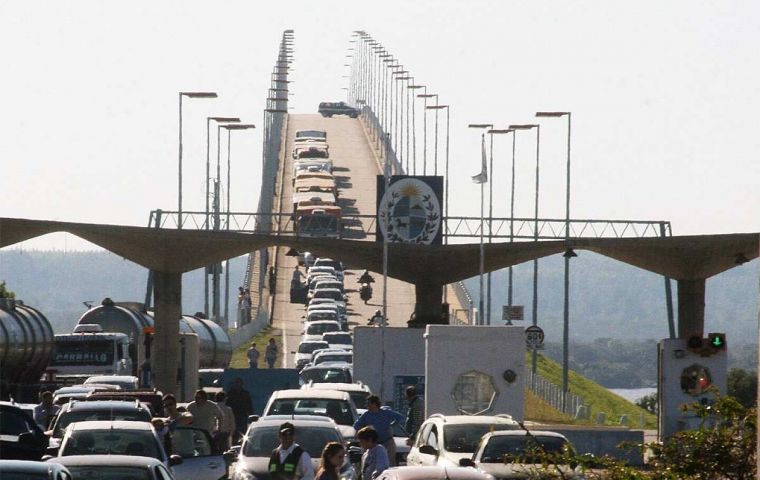 Uruguayan businessmen have expressed their concern after over 100,000 residents crossed the border over to Argentina during the three-day Aug. 25 Independence Day long weekend to capitalize on a favorable exchange rate, it was reported on both shores.
In the first six months of the year, Uruguayans spent almost US$ 600 million in Argentina, particularly on clothing and pharmaceutical items, which has an impact on the Uruguayan economy, it was explained in Montevideo.
Uruguay's Confederation of Business Chambers (CCE) President Diego O'Neill said that "all sectors of commerce, services are very affected throughout the coast and not only the coast, this long weekend the exodus of eastern people to Argentina that affects commercial activity throughout the country."
"Figures from the coast show a higher number of unemployment and obviously this is an impact that is impossible to neutralize," Labor Minister Pablo Mieres told Telenoche.
More than 1,800,000 people have traveled to Argentina between January and June 2023, and more than 100,000 did so last weekend. All points of departure considered, 103,542 people left for Argentina, according to Montevideo's Channel 12.
The Uruguayan Highway Police recorded lines of up to 8.5 kilometers waiting to cross the General San Martin Bridge, which connects the Uruguayan city of Fray Bentos with the Argentine city of Gualeguaychu. At the Paysandú bridge, the wait was reduced to four kilometers, while at the Salto Grande (Salto-Concordia) crossing, the line was only 300 meters long.
Uruguayans also travel for clothes or pharmacy products and one of them explained that he bought "some supplies for the car", although he preferred not to tell his "pique": "If not, they will cut everything," he said.
Uruguay's Chamber of Industry President Fernando Pache wondered on X, formerly known as Twitter, whether his country's customs would check the luggage of those returning after bargain deals that affected their country's economy: "Will there be a willingness to control what they bring back? Or will it continue to be a free passage...," he wrote.
According to official reports, 64% of Uruguayans traveled through the border bridges. The main exit route was the General Artigas Bridge, which connects Paysandú (ROU) with Colón (Arg). In second place was the General San Martín Bridge, which connects Fray Bentos and Gualeguaychú, followed by the Salto Grande Bridge, which connects Salto to Concordia.
In addition, 23,426 Uruguayans left through the port of Colonia, and 5,052 from the port of Montevideo, while the Carrasco International Airport saw off 11,960 travelers. On the other hand, 11,330 Argentines and 5,439 Brazilians visited Uruguay during the weekend.