Cafiero, Kishida discuss deepening ties
Wednesday, August 30th 2023 - 10:11 UTC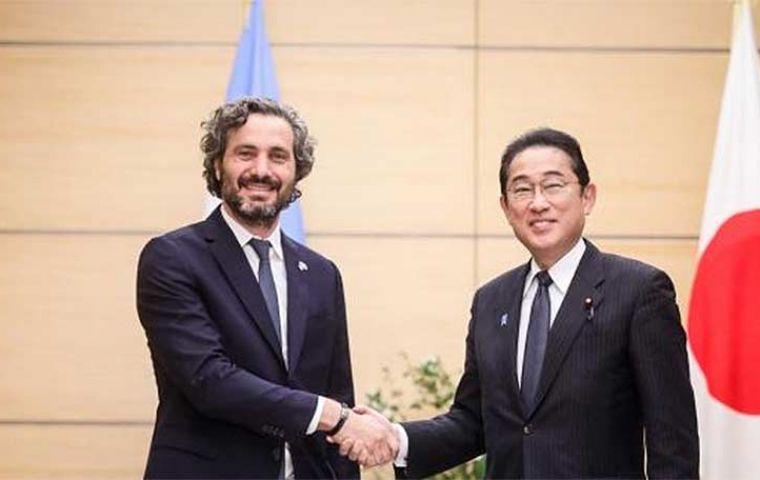 Argentine Foreign Minister Santiago Cafiero Tuesday met in Tokyo with Prime Minister Fumio Kishida to discuss further Japanese investments in the South American country, where there are already some 70 leading companies from the Asian power.
The encounter was also part of a series of events marking the 125th anniversary of diplomatic relations between both nations.
"I met in Tokyo with the Prime Minister of Japan, Fumio Kishida. Both countries consolidated the bilateral link with the commitment to increase technological cooperation and strengthen the Japanese presence in investments in sectors such as agribusiness, energy, and mining," Cafiero said on X, formerly known as Twitter.
According to the Palacio San Martín, Cafiero and Kishida highlighted the opportunities in strategic areas such as hydrogen and its derivatives, ammonia, and lithium processing, in addition to oil and natural gas.
Both countries also pledged to increase technological cooperation while upping Japan's presence in investments in sectors such as agribusiness, energy, and mining. In addition, they underscored the sharing of values regarding rules-based multilateralism, democracy, promotion and protection of human rights, peacekeeping, the peaceful settlement of disputes, and the goals of the 2030 Agenda.
Japan is the third largest global economy and is one of the main hydrogen-driving countries in the world and is emerging as one of the major demanders of that resource as well as ammonia, with Argentina being one of the potential suppliers.
"Argentina has the appropriate conditions in terms of human and natural resources, and the endowment of a scientific-technological and industrial framework to attract those capitals," Argentina's Foreign Ministry explained in a statement.
Buenos Aires also highlighted that Japan "is a potential strategic partner for Argentine energy investments and exports, contributing to its energy security through a greater diversification of suppliers, mainly considering that Argentina is in a region of peace."
Cafiero underlined Argentina's potential to "accompany Japan in its energy transition through LNG and low-carbon ammonia and hydrogen."
The Argentine Foreign Minister is to visit South Korea on the next stop of his Asian tour.