Posco pledges US$ 1.7 bn investment in Argentina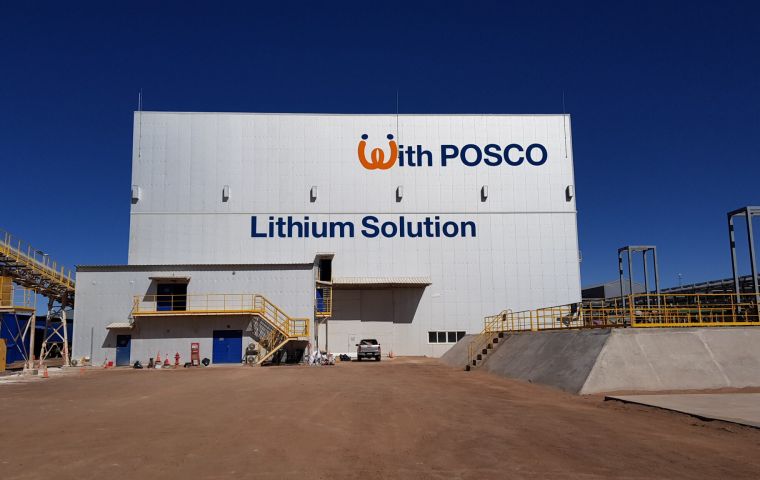 Argentine Foreign Minister Santiago Cafiero signed an agreement in Seoul with steel company Posco, whereby the South Korean company will invest US$ 1.7 billion for the production of lithium carbonate in the provinces of Salta and Catamarca.
Cafiero and Secretary of International Economic Relations Cecilia Todesca Bocco discussed with Posco's executives the integrated lithium project named "Sal de Oro" comprising 25,000 hectares. The company plans to generate an estimated 1,900 direct and indirect jobs. By 2026, it also expects to reach a production capacity of 100,000 tons per year of lithium products, increasing the total investment by around US$ 4 billion.
"We talked with POSCO about the next stages in its investment in lithium and the opportunities to develop new value-added chains that include Argentina," said Cafiero.
"The lithium industry has enormous potential for Argentina and, especially, for the provinces that produce the mineral (Catamarca, Jujuy, and Salta), especially if we consider that Argentina is the country with the largest amount of resources with potential economic value within the so-called 'Lithium Triangle', which also includes the salt flats in Chile and Bolivia," he added.
Sal de Oro is located in the Salar del Hombre Muerto, on the border between the provinces of Salta and Catamarca, which is in a full expansion stage. Last March, with an investment of approximately US$ 830 million, the construction of the first commercial stage began, which will make it the first company to produce lithium hydroxide.
The project is expected to have a production capacity of 25,000 tons of lithium hydroxide per year between the end of 2023 and the beginning of 2024, enough to power the batteries of 600,000 electric vehicles. From its entry into value, it is estimated that it will originate a flow of foreign currency from net exports of approximately US$260 million per year for the next 30 years.
Posco also has collaboration programs with schools and universities and scholarships regarding undergraduate studies in Argentina and postgraduate studies in Korea.
In the accumulated of the first 7 months of 2023, mining exports reached a total of US$ 2,321 million (a 4.3% year-on-year increase). Thus, they reached the highest level since 2012 for the accumulated of the first seven months of the year.
Also in Seoul, Cafiero met with his South Korean colleague Park Jin, and with Commerce Minister Dukgeun Ahn. After more than 60 years of diplomatic ties between the two nations, Cafiero expressed Argentina's commitment to work together with Korea on crucial issues such as ICTs, Antarctic cooperation, mining (lithium), space, and peaceful uses of nuclear energy, as well as market access and investment promotion.
Regarding nuclear energy, they shared the developments of each country and highlighted the interest in exploring cooperation opportunities based on previously signed agreements. Argentina and Korea are developing similar technologies.
Negotiations for the entry of Argentine beef into the South Korean market were also held, in addition to poultry and pork meat.