Russia's war on Ukraine deserves condemnation, Uruguayan Defense Minister says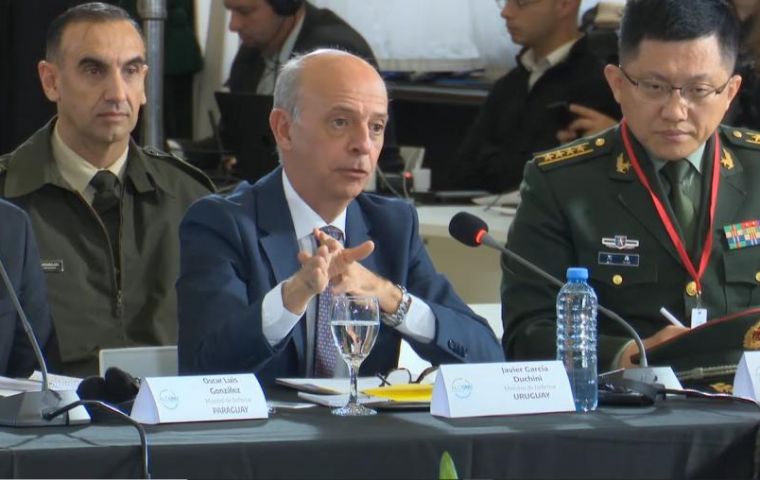 Uruguayan Defense Minister Javier García Tuesday suggested in Buenos Aires that the II Latin American and Caribbean Conference on United Nations Peace Operations should condemn Russia's military deployment in Ukraine.
"One cannot fail to condemn the violations to peace and human rights that exist in Ukraine and that are being perpetrated in Ukraine since the Russian invasion, and the violations to human rights suffered by the Armenian people," García said
"What we have to do is to demand peace and to demand an end to the violation of human rights and the invasion of Ukraine by Russia," he added while highlighting the involvement of some 55,000 Uruguayan troops in peace missions.
Meanwhile, Argentine President Alberto Fernández said in his opening speech that "Latin America, which is a region of peace, which has learned to resolve conflicts through dialogue and diplomacy, and which does not develop weapons of mass destruction, must deepen this logic and make it prevail throughout the world."
The event was held at the Libertador Building (Army headquarters in Buenos Aires), with the participation of defense ministers and authorities from 24 countries.
"Argentina, and this government in particular, has always believed in the need to respect multilateralism since it assumes that we are equals," Fernández insisted. "Multilateralism requires us to respect the principles of the United Nations, which is the common charter we have as a world system," he added.
UN Undersecretary-General for Peace Operations Jean-Pierre Lacroix pointed out that "peace operations are not a magic wand that allows States to recover their stability immediately, but they are the confirmation of an international commitment to preserve ceasefires, prevent the resumption of hostilities and ensure the protection of civilians."
"In this effort, the commitment of Latin American and Caribbean States to UN peace operations will contribute to the efforts so that humanity can live in a safer world," he went on.
Meanwhile, Argentine Foreign Minister Santiago Cafiero stressed that "one of the pillars of Argentina's foreign policy is peacekeeping operations." He added that "Argentina believes in this multilateralism of solidarity and cooperation."
"For Argentina, peacekeeping operations are a central element of foreign policy and an example of solidarity multilateralism to which we adhere and for which we have been working in all global forums," Cafiero also said while underlining that the region was "the most densely populated peace zone in the world and a model of peaceful conflict resolution that we can show in these moments of global uncertainty."
Cafiero also argued that peace operations should be part of a "comprehensive strategy that includes conflict prevention, sustaining and building a sustainable peace, capable of integrating the perspective of sustainable development and addressing the root causes of each conflict."
The hosting chief diplomat then praised the "joint work" his country carries out with the UN in peace operations, which "clearly reflects Argentina's commitment to multilateralism and to the United Nations collective security system."
Argentina's Defense Minister Jorge Taiana stressed that "Argentina has participated in UN peacekeeping operations since 1958, becoming a commitment and a true State policy, and since then we have participated in 30 missions".
"In the last three years of our government's administration, we have doubled Argentina's presence in peacekeeping operations around the world, having gone from four to eight missions: to the missions in Cyprus, Western Sahara, the Middle East, and the Central African Republic we have added our presence in the missions in Colombia, India, and Pakistan, Lebanon, and the Golan Heights."
The two-day meeting will also seek the approval of the statute of the Latin American and Caribbean Network for Peacekeeping Cooperation, created last year in Lima, Peru, an institutional mechanism for collaboration in peacekeeping under a UN mandate.