China holds Venezuela as an all-time strategic partner
Thursday, September 14th 2023 - 10:45 UTC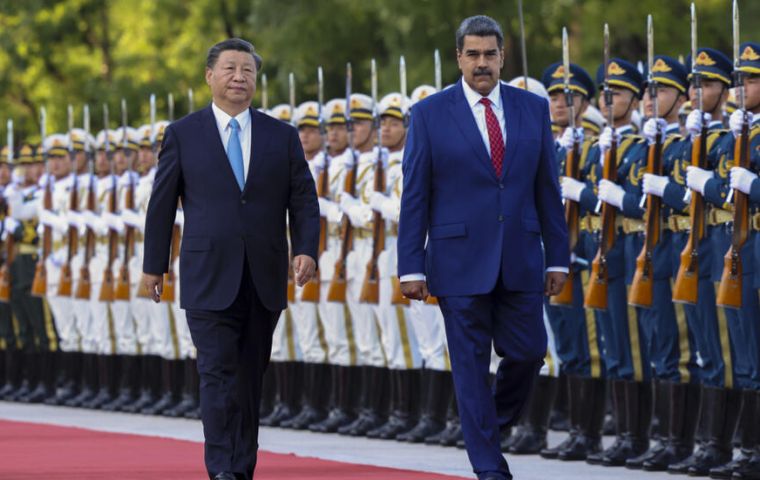 Chinese President Xi Jinping Thursday announced after meeting with his Venezuelan counterpart Nicolás Maduro that relations between both countries would be strengthened to the point where the South American nation would become an "all-weather strategic level," it was reported from Beijing.
The Asian giant also pledged to "firmly support Venezuela's efforts to safeguard national sovereignty, national dignity and social stability, and firmly support Venezuela's just cause of opposing foreign interference," Xi Jinping said.
"I am very pleased to announce together with you the elevation of China-Venezuela relations to a level of strategic partnership for all time," he told Maduro.
Maduro was seeking China's support to bring his country into the BRICS bloc (Brazil, Russia, India, China, and South Africa) which will be expanded as of Jan. 1, 2024, with the joining of Argentina, Saudi Arabia, Iran, the United Arab Emirates, Ethiopia, and Egypt.
"We could categorize the enlarged BRICS group as the great engine for the acceleration of the birth process of a new world, of a world of cooperation where the Global South has the primordial voice," Maduro told Xinhua.
He began his Chinese tour in Shenzhen and will depart the Asian nation on Friday after signing a memorandum of understanding for the development and modernization of special economic regions.
Maduro's last visit to China was in 2018, while Xi last traveled to Venezuela in 2014.
China lent some US$ 50 billion to Venezuela in the 2010s, which the South American country would repay through oil shipments.
From Caracas' Embassy in Beijing, Maduro Thursday applauded the Joint Declaration between the People's Republic of China and the Bolivarian Republic of Venezuela on the Establishment of an All-Weather Strategic Partnership among the 31 working documents signed.
Cooperation agreements include areas such as the Belt and Road, economy and trade, education, tourism, science and technology, health, and aerospace and civil aviation, among others.
Maduro also noted that, for the first time in 49 years of relationship, "we have signed an agreement for Venezuela to place its products in the Chinese market," including coffee, avocado, fish, and octopus.
"We have ratified the strengthening between China and Venezuela of the group of defenders of the United Nations Charter and that it be the central element of a strategy so that sooner rather than later the United Nations condemns and reverses the systems of unilateral coercive measures," Maduro also said.
"We are in the 21st century, the century of the end of hegemonisms, of imperialisms, the century in which a different world has been born, a pluripolar world, a multicentric world for peace, for union," he added.
"It has been a very successful visit where we have found new solutions and we have found new paths that will lead us to a superior relationship," he went on.
"I leave happy," Maduro said regarding his tour of China, which lasted almost a week.