Chilean President denounces deadly threats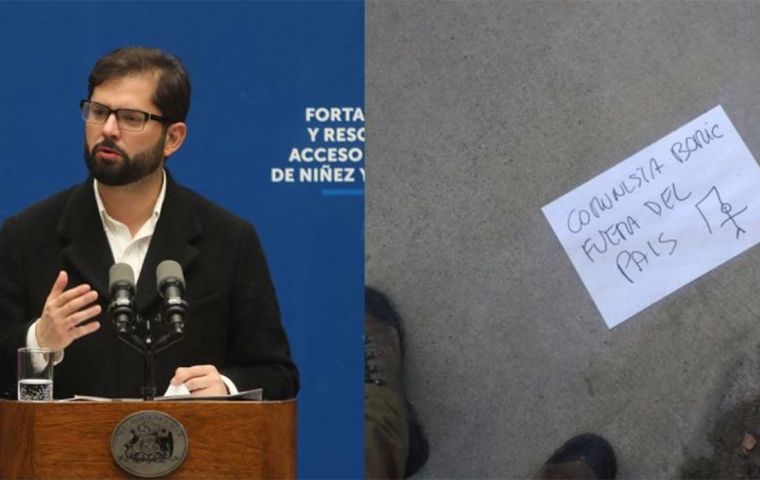 Chilean President Gabriel Boric Font Friday said he had received deadly threats from an ultra-rightwing group that threw pamphlets outside his parents' home in the city of Punta Arenas, some 3,000 kilometers south of Santiago.
Boric and his family are from the Magallanes region. His parents, Luis Boric Scarpa and María Soledad Font, continue to live there where the current head of state is also registered to vote. The pamphlets read: "Communist Boric out of the country with a drawing of a hanged man." Last May, a group of Magellanic salmon farming workers came to protest at the gates of the Boric-Font family home but with no incidents of major violence.
"Early yesterday morning an ultra-right group went to throw leaflets outside the house of my parents in Punta Arenas. Beyond the personal threats of these groups that are increasingly common, that they do it with my family crosses any limit. Not everything goes," Boric posted on X, formerly known as Twitter.
"In any case I assure you that they do not intimidate me in the least, and you can be certain that I will be, together with our government, firmly working for your Chile and its people. We continue!" he added.
A member of the leftist Convergencia Social, Boric assumed the Presidency of Chile on March 11, 2022.
Opposition lawmakers also condemned the threats and insisted "we must always defend democracy."
"Any act of violence or threat against any person is condemnable. We are in a society that is getting used to violence and intimidation and this must stop," Congressman Stephan Schubert (Republican Party) said. "It is necessary that we apply what we raised last year: we offer to bring down a change for all. That is, to bring down a change in our intensity, our communications, use of social networks, our words, and our actions. The invitation to all is to lower a change and condemn all acts of violence," he added.
"It is regrettable and condemnable the threats that President Boric has received through his family in Punta Arenas. This must be investigated and sanctioned," argued Deputy Jorge Guzmán (Evópoli). "Because we must always defend democracy and condemn violence in any of its circumstances. Let us hope that this is resolved soon and that we have those responsible, as well as in every case where a person's rights are violated or threatened", he also pointed out while stressing the issue affected not only the Boric family but "all the citizenry."
And Congresswoman Karen Medina (Partido de la Gente) said "I condemn any act of violence, any threat that can happen to a human being. Today it has happened to the President's family."