Malvinas Council rejects Libertarian candidate's statement on Falklanders' rights
Saturday, September 16th 2023 - 11:23 UTC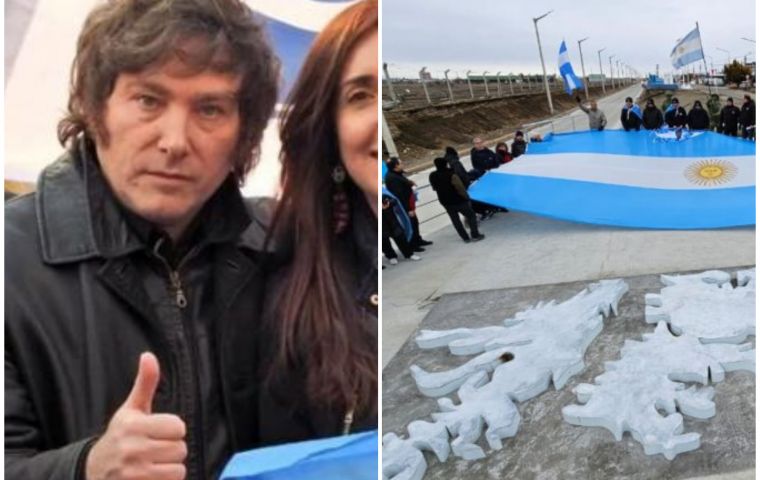 Argentina's Malvinas Council issued a statement condemning the stance of presidential candidate Javier Milei's La Libertad Avanza (LLA) party regarding the "self-determination" of the Falkland Islanders and insisted that "the pretended reference of the islanders as a third party to the dispute is a central component of the British diplomatic strategy."
The multi-party body created in 2020 by Law 27.558 also pointed out that "the United Nations has characterized the Malvinas question as a special and particular case of decolonization" involving a "sovereignty dispute between two States."
"There does not exist in the Malvinas Islands a people subjugated, dominated or exploited by a foreign power with the right to self-determination, under the terms of international law and in accordance with the provisions of the United Nations General Assembly in Resolution 2065 (XX)," the document further reads.
Read also: "Malvinas are nonnegotiable, but we must contemplate the people living in the Falklands," candidate Milei
Under the title: "In defense of national sovereignty, of the Argentine territorial integrity, of the state policy on the Malvinas Question and in homage to the fallen of the South Atlantic conflict," the statement rejects what Diana Mondino -the economist who would be Foreign Minister should Milei get elected- told The Telegraph: that "the rights of the Islanders will be respected."
Milei also maintained that to reach an understanding with the United Kingdom "the position of the people who live" in the archipelago since 1833 cannot be ignored.
The body also recalled the "historical position of the Argentine Republic in 190 years" which "never consented to the illegitimate occupation of part of its territory, considering the United Kingdom of Great Britain and Northern Ireland as the sole counterpart in the sovereignty dispute regarding the Malvinas Islands" and raised the need for a foreign policy "consistent over time."
Read also: Milei aide: Rights of Falklanders would be respected under a Libertarian gov't
The document then underlines "the demographic composition of the Islands is the result of 190 years of colonial occupation, since as from 1833 the United Kingdom expelled the Argentine authorities and population residing there, prevented the settlement of Argentine men and women from the Argentine mainland and implemented a migration policy aimed at preserving the colonial regime in the Islands" and argued that, as stated in Resolution 37/9, the "South Atlantic conflict of 1982 did not modify the nature of the sovereignty dispute" which "continues to be pending solution and that the only way to put an end to this special and particular case of decolonization is through negotiations between the two parties in order to find a peaceful and definitive solution."
The declaration also reaffirms the "importance of preserving the democratic political consensus on the question of the Malvinas Islands enshrined in the first transitory provision of the National Constitution" which states that "sovereignty over the Malvinas, South Georgia, and South Sandwich Islands and the corresponding maritime and insular areas is legitimate and imprescriptible since they are an integral part of the national territory" while recalling a constitutional mandate in this regard whereby "the recovery of such territories and the full exercise of sovereignty, respecting the way of life of their inhabitants, and in accordance with the principles of international law, constitute a permanent and unrenounceable objective of the Argentine people." (Source: Telam)