Milei aide: Rights of Falklanders would be respected under a Libertarian gov't
Monday, September 11th 2023 - 10:58 UTC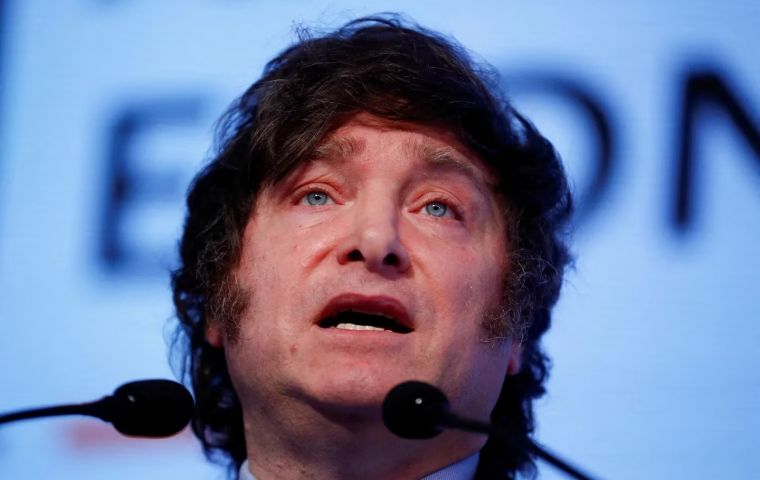 The rights of the Falkland Islanders would be respected should Javier Milei become Argentina's next president, Economist Diana Mondino, reportedly the candidate's pick for the Foreign Ministry, told The Telegraph in an article published during the weekend.
Mondino said Argentina must aim to become a "normal country" and reduce its level of inflation if it wants the Falklands to seek a closer relationship with the mainland.
The Libertarian candidate, who won the Aug. 13 Open, Simultaneous and Mandatory Primary (PASO) elections, has suggested in the past that Argentina should adopt a Hong Kong-style approach regarding the Falkland/Malvinas Islands, with a gradual transfer of sovereignty from Britain.
"If people eventually want to do certain things, it will be done. Right now, we're in the worst of worlds, because neither Great Britain nor Argentina can make a reasonable use of the resources down there," Mondino said. She added that Argentina needed to "become a normal country" to persuade Islanders to seek closer ties.
''It may take many years but you cannot force on other people any decisions, not on Argentineans not on anyone, you cannot force decisions anymore, that has to stop," Mondino went on.
On Milei's proposals to dollarize the economy, Mondino explained that "it means that the government cannot freely print money, which also means that the government cannot spend freely and it cannot keep on taxing people forever" because "in the end, you would have very little inflation…we need to stop [a] gigantic government that is extremely inefficient and corrupt."
Milei referred to the State as "a criminal organization" in an interview with The Economist published last week. "Because you don't pay taxes voluntarily ... you pay them at gunpoint," he argued.
According to The Economist, Milei "thinks the welfare state must be dismantled because it transfers the costs of decisions to others rather than making individuals responsible for their actions."
Milei plans to cut public spending by at least 15% of GDP and reach a zero primary deficit within his first year of government by eliminating electricity and gas subsidies, lowering the number of ministries from 18 to eight, replacing state spending on public works with a private bidding system, reducing federal transfers to Argentina's 23 provinces plus the Autonomous City of Buenos Aires (CABA), and scrapping privileged pensions paid to Supreme Court justices, diplomats and presidents. He promises to renounce his presidential pension. He will also seek to privatize all of Argentina's 34 state companies and target most federal taxes.
"My goal is to get the country back on its feet," the candidate was quoted as saying "over black coffee with five spoonfuls of sugar."