Against all odds Milei team insists Falkland Islanders rights must be respected, "they are Argentine citizens"
Sunday, September 17th 2023 - 08:04 UTC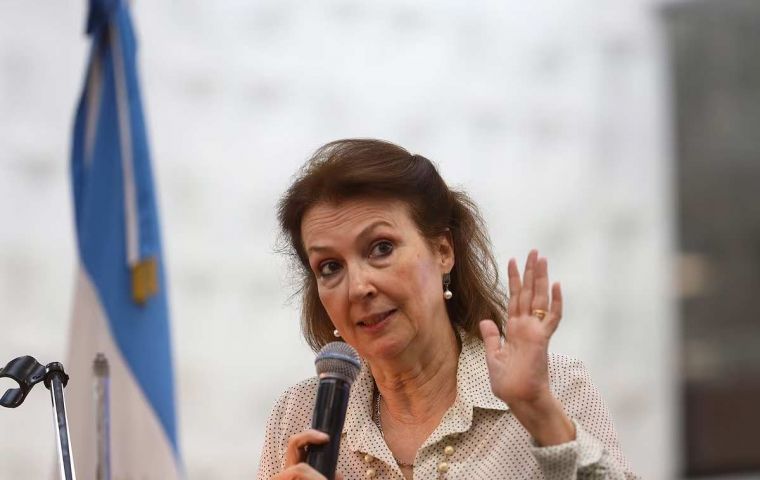 "I reiterate it, I repeat it and I reaffirm it, the Islanders living in the Falklands/Malvinas will have their rights respected if Milei becomes Argentine president," emphasized Diana Mondino underlining her statements in an interview with The Telegraph which was considered highly controversial and criticized in Argentina by politicians and the media.
Ms Mondino is an economist, a visiting professor at several US top line universities, and most probably Argentina's next foreign minister if Javier Milei is finally elected as the next Argentine occupant of the Pink House in Buenos Aires in the October/November election. Although forecasts point out to Milei as the winner, opinion polls in Argentina, as in the rest of the world, have also failed dismally.
Because of her statements to The Telegraph regarding Falkland Islanders and their rights, Ms Mondino has been repeatedly interviewed and questioned by the Argentine media, trying to find an "unpatriotic" venue in her strong stand. In effect defending the rights of Falkland Islanders is anathema in Argentina, since Argentines are indoctrinated all along the education system that Islanders are 'squatters', living on usurped Argentine territory, with a population settled by a colonial power.
And Ms Mondino far from apologizing for such a sin, "reiterated, repeated and reaffirmed" statements on Islanders' rights, recalling that Islanders, since born in Argentine territory, (the Malvinas Islands are considered Argentine insular territory), are Argentine citizens and entitled to all the rights and protection, as happens with any other Argentine be him from Corrientes, Cordoba, Santa Cruz or Chaco.
Furthermore Ms Mondino argued than under Argentine legislation prevails "ius solis", meaning the nationality of a person is determined on the basis of their country of birth. She exemplified with the Russian mothers going to Argentina to have their babies and thus as Argentine citizens, will be in the future exempt from military service in Russia.
Media insisted, Islanders might have rights, but will never have the opportunity to express their opinions or vote in Argentina, to which Ms Mondino counter replied, "tell me which Argentine born in Corrientes, Cordoba or any other Argentine province has the right to have a word on territorial issues?"
The heart of the matter is that if Islanders rights are respected, they would have the right to sit in UK/Argentina sovereignty negotiations, and that is entirely unacceptable since its contrary to Argentine official policy and indoctrination.